The fantastic Mama Shelter in Los Angeles!
Review
The fantastic Mama Shelter in Los Angeles!
"Nice atmosphere, tasty food and a sunset view to die for"
Published: November 18, 2018
One of our favorite rooftop bars in Los Angeles this far. Nice atmosphere, tasty food and a sunset view to die for.
Mama Shelter can be found in many different cities around the globe. And the rooftop in Los Angeles is for sure one of the best around. We decided to pay this amazing venue a visit during sunset on a Sunday evening. Here's our review:
TERRACE AND VIEW
When entering the building you will find your self in a sort of sports bar on the ground floor. If you haven't booked your table in advance (which is advisable) you will have to write your name on the waiting list and as soon as there's a table free, you'll get a text message in your phone and can take the elevator upstairs.
The atmosphere on the terrace is great. Chic, lively and sophisticated at the same time. A lot of trendy Hollywood people gather to catch a glimpse of the beautiful sunset while sipping on delicious cocktails.
If you're lucky, and are here just for drinking, you can get one of the comfy seats in the lounge sofas. The best seats on the terrace.
As the rooftop is located in Hollywood, you'll get an amazing view over the Hollywood sign and the downtown skyline in the other direction. Make sure to time your visit during sunset.
The California sunsets are some of the most beautiful in the world, and you'll get some spectacular pictures to share among your friends and social media.
VIDEO OF THE TERRACE:
FOOD AND DRINKS
To start of the evening we had some Gin & Tonics, which tasted really good. And to go with the food we drank beers. Some IPA and some Lager. Perfect for the heavy street food being served here.
We got super hungry by just looking at the menu. Avocado Sandwiches, Truffle fries, Hummus, Burgers and salads to mention a few. We went all in and shared some starters, while wrapping everything up with a burger each. The chicken burger was amazing!
The starters also applied well to us. The menu I classic American with big portions and heavy food.
SERVICE AND HISTORY:
Service was very good. There were lot of waiters and we never had to wait to make an order. And all the staff working here were very friendly.
We also had a chat with the manager Jean Philippe who told us about the start of Mama Shelter and their roots. Everything started in France and now they are operating in many cities around the world.
CONCLUSION
For us, everything at Mama Shelter in Los Angeles felt very modern, chic and trendy. A perfect place for younger adults between 20-40 years age. The atmosphere, food, service and view were top notch. And we can recommend anyone visiting LA, to book a table at the rooftop of Mama Shelter.
Address: 6500 Selma Ave, Los Angeles, CA 90028
• West Hollywood
• Beautiful sunset
• American food
• Trendy and chic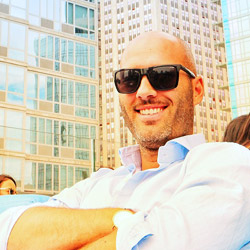 Written by:
Hans Ebenman
- Co-founder, CEO & rooftop expert at The Rooftop Guide