Luxe City Center and the rooftop bar Nixo
Review
Luxe City Center and the rooftop bar Nixo
"Downtown views with Staples Center as a mighty back drop"
Published: November 15, 2018
Nice and spacious rooms along with downtown views with Staples Center as a mighty back drop
Luxe City Center is a 4-star hotel located in downtown Los Angeles. The location is ideal for people that will visit Staples Center for a concert, a NBA game or NHL. Both Los Angeles Lakers and Clippers plays basketball here, and Los Angles Kings have their home games in hockey at this famous arena as well.
THE ROOFTOP BAR NIXO
We visited Nixo the same night as Lakers played Toronto Raptors at the Staples Center just on the other side of the street. There was a nice atmosphere in the area and you could tell that many visitors at Nixo were stopping by for a beer or cocktail, before heading to the game.
The terrace is located on the 2nd floor, but still has a good view over the street and buildings surrounding the area. There's both an indoor and an outdoor area, which means you can spend time here despite if it's raining. The bar is located inside, where you also can find a big screen TV showing sports.
The outside terrace is quite large and there are both lounge sofas, fire pits, dining tables and bar stools up here. Occasionally, live bands perform in the relaxed and nice atmosphere. We tried some different sharing plates which all tasted good. For drinks we decided to go with beers on tap, that suited well to the plates.
VIDEO OF THE TERRACE:
THE HOTEL AND ROOMS:
The hotel is a 4-star hotel with a great location if you want to spend time in downtown Los Angeles. And I would say it's the ideal hotel if you will visit Staples Center for a game, concert or show. There's a valet parking available for a daily fee, which is very good if you have a car.
The rooms at Luxe City Center are very spacious with lots of room for bags etc. We were lucky to get a room with views over Staples Center which was a very nice view to wake up to. The overall feeling of both the rooms and hotel is luxurious with a modern touch.
CONCLUSION
We were very happy with our stay here. The service was spot on – both in the lobby and rooftop bar. The spacious rooms, central location and good service were the three best things about Luxe City Center and Nixo.
We can recommend this hotel and rooftop bar to anyone looking for a place to stay in downtown location. Nixo is also the perfect rooftop bar to visit before heading to Staples Center.
Address: 1020 S Figueroa St, Los Angeles, CA 90015, USA
Downtown Los Angeles
Spacious rooms
Good service
Nice lounge sofas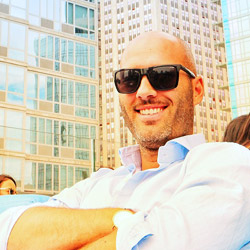 Written by:
Hans Ebenman
- Co-founder, CEO & rooftop expert at The Rooftop Guide