Juvia Rooftop Bar in Miami
Review
Juvia Rooftop Bar in Miami
"Premium views of Miami Beach and an atmosphere to die for"
Published: April 10, 2018
Premium views of Miami Beach and an atmosphere to die for. Read more here!
Juvia Miami is probably the best rooftop bar around South Beach and also one of the best in Miami. So, during our time in this lovely city, a visit at Juvia was a sure thing. And we would not be disappointed.
As we mentioned in several other reviews, we always try to visit the rooftops just before sunset. This was also the case with Juvia. When arriving at the terrace the sun was shining over South Beach and its surroundings. The Atlantic Ocean looked beautiful from up here. Juvia has a big roof terrace and an inside sky restaurant.
We got a nice table in the middle of the terrace with a great view. The clock had just turned 6:30 PM and the place was beginning to fill up with people wanting to get a glance of the city while zipping on refreshing cocktails or nibbling on some of the delicious snacks and food.
Food and drinks:
We decided to try some of the signature dishes and drinks from the menu. The cocktails were superb. Fresh, tasty and made in a nice way.
SWIPE for more pictures below:
If you decide to visit Juvia Miami, we can really recommend eating here. During weekends they serve a great brunch on the terrace and in the evenings there's an "a la carte menu" to order from. That's the one we tried.

<7>For starters we shared a sushi pizza (!?) and steamed artichoke. And wow, it tasted fantastic. We couldn't get enough of the artichoke and dip sauce. A must try!

As main I got Korean BBQ, French fries and Béarnaise and Ida had the seared tuna with salad. Same here, the taste was spot on. To this a couple of beers while the sun was starting to set.

SWIPE for more pictures below:
And to end a great dinner we shared the famous Tarte tatin and two glasses of Champagne. Tarte tatin is a special made apple cake with vanilla ice cream on the side. A nice way to end a very nice evening and rooftop dinner.
View and atmosphere:
Though the food was very good here, the best thing about this rooftop bar is the atmosphere. Trendy people gather here to create a perfect party and lounge vibe. A perfect place to both begin and end your evening at.
The live DJ also contributes to make the feeling as good as possible. There were both people here for dinner, party, or just drinks. In other words, Juvia Miami suites everyone.
The views from here goes hand in hand with everything else, which means top notch. Grand views over the skyline of South Beach and the Atlantic Ocean. One of the best view spots at Miami Beach and South Beach. You'll get some great pictures up here.
Conclusion:
We loved Juvia! A perfect place if you want to enjoy great views in a superb atmosphere. Melt in among the trendy crowd and you'll feel like a real "Miamian" for a night.
Make sure to reserve a table in advance as this place is very popular. We will definitely be back here next time in Florida.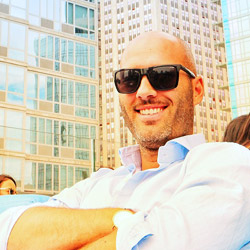 Written by:
Hans Ebenman
- Co-founder, CEO & rooftop expert at The Rooftop Guide