InterContinental Doha and Manko Rooftop
Review
InterContinental Doha and Manko Rooftop
"The ultimate hotel experience"
Published: November 12, 2019
InterContinental Doha is probably one of the best hotel complexes in Doha if you want a full experience with beach hang out, swimming pool, restaurants and rooftop. They even have a collaboration with one of the best golf courses in the city. Here's our full review:
MANKO ROOFTOP
Manko Rooftop is one of the trendiest spots in Doha. During weekends (Thursday and Friday evening) lots of people gather here to party or just enjoy the lovely vibe. Despite being located on the 2nd floor, the view from here is breathtaking. Sweeping skyline views of downtown Doha.
Another thing that adds to the popularity is the quality of both food and drinks. The bar manager and his staff are some of the best in the country. You won't be disappointed when ordering a cocktail. We had some great ones here. Both classics like Negroni and signature ones like their special Pisco Sour.
LA MAR RESTAURANT
La Mar is located one floor below Manko Rooftop. This is the main restaurant in the hotel area. The outside terrace is very popular during wintertime when temperatures are a little colder. During summer you'll do best in grabbing a table inside.
Service and quality here are as great as at Manko. The Peruvian food at La Mar is something extra. Made with love from the freshest ingredients you can imagine. We tried many different dishes and I can honestly say that all of them tasted fantastic. This restaurant is a must visit in Doha if you like great food.
SWIPE FOR MORE PICS OF THE FOOD
THE HOTEL
InterContinental Doha is a 5-star luxury hotel located in a huge hotel complex. Here you can find tennis courts, a large swimming pool, restaurants, bars and the best beach in Doha. Just the beach is a reason for staying at the hotel. Soft white sand, warm water and a beautiful skyline view.
All rooms here are large, modern and with a new feel and look to them. If you want that little extra out of your stay, you should book a room with sea view. It's beautiful. We let the pictures speak for themselves here.
SWIPE FOR MORE PICS FROM THE ROOMS
CONCLUSION
We can highly recommend InterContinental Doha if you want the ultimate hotel experience in this city. Superb restaurant, best beach in Doha and also one of the best rooftop bars around.
Address: 223 Lusail Expy, Doha
• Skyline view
• Great party vibe
• Best beach in Doha
• Delicious drinks and food
• Fantastic service
• Luxurious hotel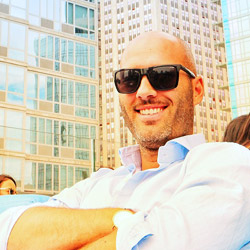 Written by:
Hans Ebenman
- Co-founder, CEO & rooftop expert at The Rooftop Guide