Cosy Rooftop Igloo Garden at Bar 360 Budapest
Review
Cosy Rooftop Igloo Garden at Bar 360 Budapest
"Cosy, chill-out and very tasty and well-made drinks"
Published: March 19, 2019
Large, vibrant and comfy terrace with cosy rooftop igloos, great selection of cocktails and amazing Budapest views.
Rooftop igloos is a growing trend and a great way for rooftops in the colder parts of the world to stay open year round. For a few years we have wanted to try some rooftop igloos, and half a sunny day in February it was finally time, with a visit to the great 360 Bar in Budapest. Watch and read our full review:
CHECK OUT: VIDEO REVIEW
ATMOSPHERE & VIEWS
We had a table reserved at 3.30pm on a Sunday afternoon, and when we arrived the rooftop was already more than half full. There was also a lot of reservation signs and more and more people showing up along the afternoon and early night, so try and make reservations to secure an igloo-spot.
The 360 terrace is large and really cool looking, spreading out over the full roof of a buidling on the fancy shopping street Andrássy út. A direct elevator leads up to the rooftop that in summer offers lots of al fresco seating, and during winter season fits 8 giant igloos, but also keeping some of the "regular" outside setas for the warm and fully dressed ones. There is also a small inside bar / lounge area.
We started of with a walk around the terrace and enjoyed the panoramic views over all of Budapest. Truly worthy of the name, they are 360 and quite spectacular. It actually also felt a lot warmer up on the terrace compared to the zero degree street below. Maybe it was the views warming :)
ROOFTOP IGLOOS
Stepping inside the igloo to our table, and all thoughts of the cold weather was quickly long gone, as they are really warm and cosy. The rooftop igloos can be reserved complete, but the usual set up is sharing, with two regular dining tables for two and a lounge group with space for a group around five to six people.
Have to admit, I fell in love the igloos straight away. Comfy and cosy in decoration and speakers with some lounge music makes it a great place for sevreral hours of lounging. And while the views of course get a little bit 'cloudy' through the plastic walls, you still get the almost-outside vibe, but staying nice and warm.
DRINKS
The drink menu at Bar 360 is impressive, tailored for the season and quite wallet-friendly. There is also a smaller food menu, and while we were full from a big lunch, our igloo-neighbours munched on some burgers that looked really tasty.
There is table service inside the igloos, and we started of with one classic Aperol Spritz and one of the Chilled Winter Cocktails, a 'Slippery Slope' made with Aperol, Beefeater, orange squeeze, grapefruit squeeze, orange bitter and egg white. Very fresh and very good, and with the sun beaming into the igloo it felt like just the right choice.
Slippery Slope
Time for another drink, and getting the attention of the staff was not a problem at all thanks to a "call-button" right on the table. Next up, only classics, with one nice and well made Old Fashioned and one Gin & Tonic. There are several Gins to choose from, but the recommended and very good one was the Monkey 47.
Old Fashioned
Gin & Tonic
As the sun started to set, the igloo and the terrace got even more cosy, with many and very atmospheric lights. And being inside a winter igloo, we of course had to try some of the Signature Hot Drinks on the menu.
Ordered one 'Naughty or Spice' (Sailor Jerry, Dilmah spicy berry tea, vanilla syrup, lemon juice) and one 'Ho Ho Hot Toddy', and in all fairness didn't really know what to expect. The drinks felt a bit towards tea with alcohol, and while we will stick with the notion that cocktails are best served cold, it's a nice and cool thing to have on a winter-menu. And they sure did the job of warming you up.
Cosy igloo & Naughty or Spice
Ho Ho Hot Toddy
CONCLUSION
We had a couple of fantastic hours at the 360 Rooftop Igloo Garden, and while this is a great spot for sunny summer drinks, it is a bit different but just as great in winter. Vibrant and with a very cosy and warm setting, really enjoyed popping out on the cold and open terrace for a bit and then finding the way back into the warm igloo.
With great and friendly table service (just a button-call away) it is also very easy just to chill-out and enjoy very tasty and well-made drinks. A nice add-on is that you also get a bit of the friendly-neighbor feel with the ones you share an igloo with.
Sunny outside, sunny inside
Address: 1061 Budapest, Andrássy út 39
• Cosy rooftop igloos
• Large & beautiful terrace
• Fantastic 360-views
• Friendly and great service
• Seasonal cocktail menu
Book your table: +36 30 356 3047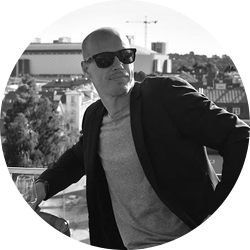 Written by:
Rikard Fredricson
- Co-founder, Creative & rooftop expert at The Rooftop Guide