Hotel Stripes & Man Tao Rooftop Bar in Kuala Lumpur
Review
Hotel Stripes & Man Tao Rooftop in Kuala Lumpur
"Modern and stylish, with fantastic rooftop pool"
Published: March 3, 2019
Modern and stylish from top to toe, Hotel Stripes is a great place all around, but the real unique selling point is the fantastic rooftop pool and the Man Tao rooftop bar.
Hotel Stripes Kuala Lumpur is a pretty new hotel, located in Jalan Kamunting, an urban district in downtown KL. We had the pleasure to spend two nights here, enjoying all the great facilities, the relaxing vibes and lovely service. Read / watch the full review below:
VIDEO REVIEW
HOTEL & ROOMS
Opened in 2017, Hotel Stripes belong to the Autographs Collection and it shines modern and urban trendy as soon as you enter the lobby. On the ground floor you also find Brasserie 25, a rustic and charming restaurant serving lunch and dinner, and also the place to enjoy the hotel breakfast buffet. Which was great!
Here you find chefs ready to make a fresh omelette or any kind of eggs you want, a large selection of freshly squeezed juices, healthy smoothies, pancakes, waffles, a good selection of breads, yogurts, some warm asian dishes and a nice table of fresh fruits. The waitors also brings any kind of coffee you want, and the atmosphere was calm and perfect to stick around and enjoy a long breakfast.
We also had a relaxing lunch at the Brasserie 25, and the dishes served where, just like the decór, rustic and very filling. And great in taste, both the beef and the duck.
Brasserie 25
Brekfast nibbles
Beef for lunch
MAN TAO ROOFTOP BAR & ROOFTOP POOL
When staying at Hote Stripes you will probably head up to the roof more than once (we sure did), as this is where the real gem of the hotel is located. On your way up you will pass by the gym, open 24/7, quite large and with a mix of cardio machines and weights and all the water you need to stay hydrated.
24/7 gym
While we maybe did not spend as much time as wanted (needed?) at the gym, we sure made most of the fantastic 21st floor rooftop and rooftop pool. Open daily from 7am - 7pm, the really cool infinity pool is complemented with very comfy sun loungers and a fantastic view over the city skyline, the KL Tower and the KL Forest Eco Park.
Our visits during early mornings where just about as relaxing and peaceful as you can get. The feeling of having the entire terrace and pool (almost) to our selves. The sun rising behind the skyline, high above traffic and other city turbulence and fresh towels waiting on the sun bed.
Perfect setting for a morning swim, and also a great photo opportunity.
Later on and throughout the day the rooftop did get a bit more crowded, but definitely not over-crowded, and with an ever relaxing vibe. The rooftop bar is usually not open during daytime, but one nice little detail was that there was always a filled tank of fresh water to enjoy. And while the bar itself is closed, the area is open to relax in, perfect if you want to get out of the sun and find a bit of shade.
During weekends the Man Tao Bar opens a bit earlier, so we did also get the chance to enjoy tasty and well made cocktails poolside, which is always a winner.
So, the Hotel Stripes rooftop is a relaxing place for guests during daytime, and then Thursday to Saturday night, the Man Tao Rooftop Bar opens up to all. While our scheduled nightly visit at the bar to the most part unfortunately rained away, we did manage to enjoy a quick drink.
The setting in the bar is beautiful, and the lights combined with the night time views over KL really sets up for a cosy night out. Just as with the rest of the hotel, the vibe is towards relaxing more than vibrant.
Man Tao Bar
Man Tao Bar
While we were a bit unlucky with our nightly visit, we were on the other hand very lucky to be around on a Sunday and the new concept at Man Tao Bar called 'Sizzling Sundays'. This means a buffet of sizzling meats, BBQ combos, sallads and a dessert table between 12 noon-3pm. Relaxing, filling and tasty, and we especially enjoyed the ribs and the vide array of sauces.
Sizzling Sunday
Sizzling Sunday
Make Your Own Sangria
Dessert table
CONCLUSION
We were really pleased with our stay at Hotel Stripes, and would not hesitate to recommend it to anyone visiting KL, or also a place for a staycation if you are living in the city. Modern, fresh, trendy and with a great breakfast buffet, we feel there are two things that really make the hotel stand out.
One is the fantastic and relaxing rooftop infinity pool and Man Tao Bar, complemented with awesome views. The other is the very friendly and professional service, with smiles all around from all the staff at all times, and help with anything needed, from getting a cab to ordering food late at night.
Address: 25 Jalan Kamunting, 50300 Kuala Lumpur
• Fantastic infinity pool
• Great service
• Relaxing & sophisticated
• Modern & trendy
• Amazing views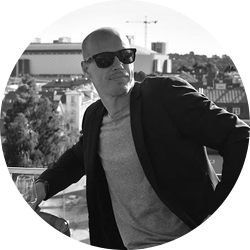 Written by:
Rikard Fredricson
- Co-founder, Creative & rooftop expert at The Rooftop Guide