Hotel Mediterraneo & Vista Sky Bar Sorrento
Review
Hotel Mediterraneo & Vista Sky Bar Sorrento
"Ocean sunset views, great atmosphere and one fabolous breakfast"
Published: July 15, 2019
Sorrento done right must include a visit at Hotel Mediterraneo. Either as a guest at the hotel, which (among lots of other things) includes an amazing breakfast. Or at least for a visit at the vibrant Vista Sky Bar.
We spent two nights at Hotel Mediterraneo and one fantastic evening at Vista Sky Bar. Amazing ocean views, great cocktails, lovely breakfast and a fantastic pool area are just some of the highlights. Check out our full review below:
Vista Sky Bar
Vista Sky Bar is a pretty new venue, set on the 6th floor rooftop of Hotel Mediterraneo. It is a super modern, very stylish and spacious terrace, covering just about all of the hotel rooftop.
This means views in all directions, both inland towards the mountains and out over the ocean. The views over the ocean especially are just amazing. And since this is also where the sun sets, up here you get front row seats of watching day turning into night.
Vista Sky Bar is quite exclusive in opening hours, available to the public just three nights a week (Tue, Fri & Sun). Lucky for us, we stayed at the hotel on a Sunday and could head up to the terrace just before opening around 7pm.
Atmosphere
While we were first on the terrace, almost all tables had a reservation-sign. So big recommendation: make your reservations before visiting Vista! If you are really early, you might have a chance of grabbing one of the lounge sofas right by the edge.
During the first hour, the vibe was quite soft and we could mix sitting in the loungers enjoying the views and walk around taking some photos. But by 8pm and closeer to sunset, the terrace was pretty much packed and the vibe sophisticated high.
Much so thanks to the live DJ pumping great tunes. The mix of lounge music and the murmur from people having a nice time. It is a lovely combo.
Drinks & food
Speaking of mix, we tried a few of the cocktails from the very impressive cocktail menu. Divided into 'Before Sunset Signature Cocktails', 'After Sunset Signature Cocktails', 'Think global...Drink local!', and about 12 different Gin & Tonics, the menu for sure has something for everyone.
A nice touch is that the menu also shows what kind of glass your cocktail will arrive in. I for one thinks this makes it easier to choose and understand what kind of cocktail it is.
While all cocktails where beautiful in presentation and very well crafted, our favourite was the 'Tokyo Sour'. Made with Yamazakura blended Whisky, yozu flavoured sake, sugar, and a hint of wasabi.
Cherry Negroni & Vista Caipiroska
SWIPE FOR MORE COCKTAIL PICS
Nr 1: Tokyo Sour
The drink menu also includes lots of 'Unforgettable Wines', Moet & Chandon Champagne and...well yeah, as said, you will for sure find a drink suitable for you.
We also tried a couple of dishes from the Finger Food Menu. Since you look straight out into the ocean from the terrace, it feels appropriate that most of the dishes come from there.
And while the fish covered in octopus ink was both cool and tasty, our favourites were the Crispy King Prawns and the Breaded Lolly Pops of Oriental Spice Chicken.
SWIPE FOR MORE FOOD PICS
Service
The service at Vista was really a 10 out of 10. All waiters where super friendly, very informative about food and drinks, smiles all around and checking up on the table every now and then. We felt more than welcome!
There is also a nice "service" in how the menu is planned. As said, showing what glass drinks will come in, but also that all food comes with a suggestion of which kind of drink will suit which dish.
The Hotel
Hotel Mediterraneo is located on a rock, just by the ocean, in Sant'Agnello. So it is not in city center Sorrento, but you can walk there in about 15-20 minutes.
The hotel feels both classic and classy, but at the same time very modern. The rooms are decorated in a bright Mediterranean style and has all the comforts needed for a great stay. Bathrobes and slippers are included, the bathroom filled with small things that makes a big difference.
The superior rooms (that we stayed in) also have balconies and great views, either towards the mountains or the ocean (or both).
In the backyard there is a large and stylish pool area, with both swimming pool and jacuzzi. Surrounded by greenery, lemon trees and loads of sun beds, cabanas and a lounge bar. If there wasn't so much to discover on the Amalfi Caost, we would have spent much more than our last morning here. Lovely!
The Breakfast
The morning meal served to everyone staying at Hotel Mediterraneo is worthy of its own headline. Part because it is served on the 5th floor, which includes an outdoor terrace with views over the ocean. So breakfast with a view: check!
But it is not just a fine setting, it is also a fantastic breakfast when it comes to what is served. Make your own fresh orange juice or a Mimosa, order whatever coffee you would like, enjoy a great selection of yogurt and granola, bread, pastries, cold cuts and warmer stuff. It is all there, and it is all well made.
Breakfast with a view
SWIPE FOR MORE BREAKFAST PICS
The same venue can be visited by anyone, hotel guest or not, at night when it turns into the Vesuvio Roof Restaurant. We did not try this, but can at least promise that it would for sure be a dinner with a great view.
CONCLUSION
Both Vista Sky Bar and Hotel Mediterrano are so highly recommended. If you find yourself in Sorrento, it is well worth making the short trip out to Sant'Agnello for a nightly visit at the rooftop bar. Views, setting, cocktail, service and atmosphere are all on top!
And if you are planning a trip to the Sorrento / Amalfi area, Hotel Mediterrano is a great option. For a Sorrento stay, obviously, but it also works to have as a base while exploring the Amalfi Coast. We took the boat from Sorrento to Positano one day, it is just a 40 minute scenic ride.
Address: Corso Marion Crawford 85, 80065 Sant'Agnello
• Ocean sunset views
• Lots & great cocktails
• Stylish & exclusive
• Great atmosphere
• Perfect breakfast
• Comfortable & modern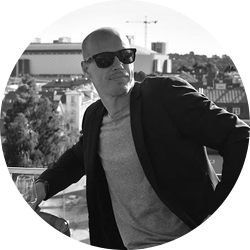 Written by:
Rikard Fredricson
- Co-founder, Creative & rooftop expert at The Rooftop Guide