Hotel Indigo Lower East Side and Mr. Purple Rooftop Bar
Review
Hotel Indigo Lower East Side and Mr. Purple Rooftop Bar
"Trendy hotel with a great party vibe"
Published: September 27, 2018
A trendy hotel with a great party vibe and a lovely rooftop pool:
Hotel Indigo Lower East Side is a super trendy and pretty new hotel located (as the name suggests) in lower east Manhattan. This is a very trendy and popular area for a crowd between 20-35 years. You can find cool hotels, nice cafes, lots of bars and restaurants/night clubs in different shapes.
And Hotel Indigo Lower East Side have this to offer to. We decided to stay here for 1 night to see how it was. Here it follows:
Mr. Purple Rooftop Bar:
Mr. Purple Rooftop Bar is a mecca for trendy party people. Not so good if you like to spend some relaxing hours by the pool. The tempo and atmosphere here are very high. And so is the noise level.
Don't expect to read a book or to sleep in one of the few sun loungers by the pool. Specially not during the weekends when the vibe is at its top for party.
The crowd that gather here is between 20-35 years of age. Trendy party people that are looking for drinks with a view in a party friendly setting. If that's what you like, Mr. Purple is a great place.
If (like us) you're looking for some relaxed pool hangout, the morning hours is the time for you. From lunch hand forward the terrace gets crowded pretty fast and sometimes you have to stand in line to get a place. Even if you're staying at the hotel.
The hotel and rooms:
Like mentioned earlier, this hotel is super trendy and very modern. When entering to hotel on the ground floor you have to take the elevator to the lobby a couple of floors up. This floor is very noisy during the weekends as it's located on the same floor as the bars. It was quite tediously to check in and it took us a while.
But well up in the rooms, we could see why so many people choose to stay here. The rooms are amazing. Try to get an upgrade to a corner room.
The view from this room type is spectacular. You can see the Freedom Tower and downtown in one direction and the Empire State Building and Midtown in the other. It's amazing. You can't ask for a cooler city view when waking up in the morning.
Service:
During our short stay here, we were happy with the service we received. All the way from entering the hotel to get help with the bags, to the top floor and the service provided there. The only downside was the check in. But maybe we got unlucky here. So, don't hung up too much on that part.
Conclusion:
Hotel Indigo Lower East Side is a great hotel if you like party and trendy places. You will find lot of hipsters here. The rooftop is most suitable for party and not for relaxation.
Expect to spend some cash when staying here or just visit the rooftop bar. But that's like most hotels with fancy rooftop bars in NYC.
• Nice rooftop pool
• Great party
• Trendy
• No relaxation
• Noisy
• Fantastic rooms
• Breathtaking views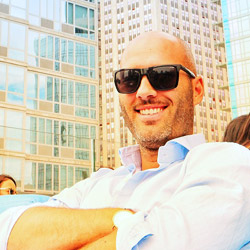 Written by:
Hans Ebenman
- Co-founder, CEO & rooftop expert at The Rooftop Guide