Review:
Review of Hotel Casa 1800 in Seville and their roof terrace
Published: January 03, 2019
A luxurious boutique hotel with a central location and a rooftop view to die for:
If you're looking for a unique and harmonious hotel experience, you must book your hotel nights at Hotel Casa 1800. We love a good boutique hotel, and this was no exception.
In fact, this is one of the most charming and nice boutique hotels we've stayed at. Everything from the cozy rooms, to the fancy rooftop pool and the great service provided by all the staff working here. Here's our full review of this lovely hotel and their roof terrace. Enjoy!
THE ROOFTOP AND SWIMMING POOL:
Unfortunately, there's no rooftop bar up here. But you're allowed to bring your own food and drinks to the terrace. You can order 24 hours room service from the hotel. So, feel free to bring your own drinks and food up here.
Why not buy some beers, cava and Spanish jamon (ham) to enjoy to the beautiful view of the city and the famous cathedral as a mighty backdrop.
There are plenty of furniture's available up here. Sun loungers, chairs, sofas etc. Find your preferable oasis and just relax. This rooftop is all about harmony and relaxation.
The background music along with the buzz from the streets below creates a nice atmosphere and a feeling of tranquility. Some people read books, some drink beers and some swim in the pool. In other words, there's something for everyone at the terrace at Hotel Casa 1800.
The rooftop swimming pool is quite small and not heated. But it provides a grand view of the cathedral, city rooftops and palm trees. It's very beautiful on the sunny days (almost every day of the year).
VIDEO OF THE TERRACE:
HOTEL AND ROOMS
Wow, is the first word that comes to mind when stepping in to the lobby. From the outside Hotel Casa 1800 doesn't look much to the world. But well inside you'll be struck by the classy décor and warm feeling. Directly, you are welcomed by the helpful stuff working here. And this feeling is something that will stick with you during the whole visit.
There are many different room types here, and no room look the other like. High sealing, courtyard terrace, roof terrace with private jacuzzi etc. We decided to try one of the rooftop suites with a jacuzzi overlooking the beautiful and famous cathedral. A good choice as this room was fantastic and super cozy in every way imaginable. We let the pictures speak for themselves.
There's a small, yet very good breakfast buffet available for all guests. And during the afternoon there's also complimentary afternoon tea in the lobby. And, 24 hours á day, you can get yourself fresh coffee, tea, water, sodas etc. from the lobby. All complimentary. A very nice feature that makes everybody feel like VIP customers.
Unfortunately, there's no restaurant in the hotel, but you can still order room service from Hotel Casa 1800.
CONCLUSION
We loved both the hotel, the service and the rooftop. If we're going to pic our favorite two thing it would be the lovely rooftop pool and the beautiful décor of the hotel. Boutique hotels are always a nice thing, and Hotel Casa 1800 is one of the most beautiful and harmonious ones we have stayed at. Book your stay below and you'll be in for a treat!
Address: Calle Rodrigo Caro, 6, 41004 Sevilla
• Central location
• Nice swimming pool
• Luxurious
• Classy decor
• Amazing service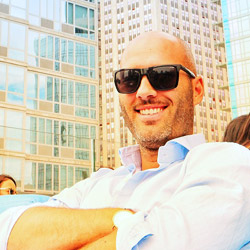 Written by:
Hans Ebenman
- Co-founder, CEO & rooftop expert at The Rooftop Guide