Holiday Inn Vana Nava in Hua Hin, Thailand
Review
Holiday Inn Vana Nava
"One of the best rooftop infinity pools in Thailand"
Published: May 15, 2019
3 days at the huge and popular hotel Holiday Inn Vana Nava. A hotel with a sky bar, rooftop infinity pool, water park, training facilities, SPA and much more. Enjoy our review here:
THE ROOFTOP INFINITY POOL
For us, the rooftop swimming pool is the flagship of Holiday Inn Vana Nava. Probably one of the coolest and best rooftop swimming pools you will find in Thailand (outside of Bangkok). Sweeping ocean and city views from the 27th floor makes you want to spend all your day on the rooftop.
We spend several hours up here. And as usual, it was during sunrise we hade our best time. At this time, you'll have the whole pool for yourself. You can swim and take pictures without anyone disturbing you.
The pool area has two swimming pools, one pool bar, several sun loungers, showers and the possibility to order both drinks and lighter food. We tried both some Thai food and a couple if classic drinks. Good, but nothing super special.
SWIPE FOR MORE PICS
VANA NAVA SKY BAR
The rooftop bar is very famous for it's amazing sunsets and the terrace with a floor made of glass. Many people gather up here to take pictures of the breathtaking view during the sunset hours. For those (like us) that's more into sipping cocktails and nibble on bar bites, you'll find a lot of seating's both indoors and outdoors.
We tried a few signature cocktails and some snacks. And I must say, everything tasted great! Refreshing cocktails and the peanuts was probably the best ones ever. They had added lemongrass which made them super tasty.
SWIPE FOR MORE PICS
THE HOTEL
This hotel is very popular among families with children. Specially in Thailand. Around 90% of all guests are from Thailand and other parts of Asia. The fact that the hotel has a big Waterpark makes it very popular for all families.
You can also find a big sport complex with soccer fields, tennis courts etc. It's located 1km from the hotel. There's also a luxurious SPA at the hotel with a various of classic treatments. All stuff working here are very polite and service minded. You'll feel welcomed from the first second till the day you're checking out.
The rooms are very spacious and all with a great view, as all rooms are located above the 8th floor to make sure that no buildings will cover the view of the ocean and surrounding neighborhood. We stayed in an Ocean Suite which was superb. Sweeping views, 2 bathrooms, a big balcony and spacious rooms.
SWIPE FOR MORE PICS
LE COLONIAL BEACH CLUB
If there's something we love except from rooftop bars, its beach clubs. So, we were very satisfied when we saw that Vana Nava had their own beach club 10 minutes from the hotel. You can find both cabanas and classic sun beds here. All close to the pool and beach.
We spent a couple of relaxing hours in two sunbeds here, where we tried both some drinks and food. Le Colonial is a good beach club in Hua Hin. Make sure to get here early to get a good seat.
CONCLUSION
If you're looking for a luxurious hotel with a lot of activities and one of the best rooftop pools in Thailand, then Holiday Inn Vana Nava is the perfect choice for you. We can recommend staying here to everyone visiting Hua Hin.
For us, the rooftop swimming pool was the icing on the cake. Amazing views from the big sky park on the 27th floor.
Address: 129/129 Petchkasem Road Nong Gae Sub-District, Prachuabkhirikhan Nong Kae, 77, Hua Hin District, 77110
• Amazing rooftop pool
• Rooftop bar and restaurant
• Sunset views
• Popular among families
• Spacious rooms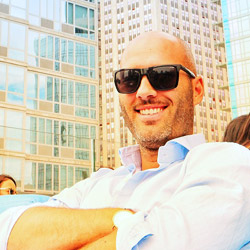 Written by:
Hans Ebenman
- Co-founder, CEO & rooftop expert at The Rooftop Guide