High Note Sky Bar at Aria Hotel in Budapest
Review
High Note Sky Bar at Aria Hotel in Budapest
Fantastic drinks and magical views
Published: November 9, 2017
Two lovely evenings at one of the best rooftop bars in Budapest - High Note Sky Bar
The roof of the world-renowned Aria boutique hotel houses the High Note Sky Bar Budapest. The bar has a modern feeling with impressive furnishings and facilities. A large deck followed by two pilots makes High Note Sky Bar one of Europe's trendiest rooftops.
Food and drinks are of very high quality, and of course, High Note is in a different price range than usual Budapest, but you definitely get what you pay for.
This Budapest rooftop venue is excellent for both drinks and food, but we would recommend a more casual way of eating then a traditional dinner due to the high amount of lounge furnitures instead of dining tables. And if the menu against presumption does not have your favorite drink, you name the drink, you get an "of course" back from the staff, and they will google the recipe, so you get what you want.
In other words, the service is impeccable, and it is noted that Hotel Aria's excellent reputation has also spread to their restaurant business.
Amazing views over the city!
We were put on one of the pilots with stunning views of the 500-year-old church right next to us and also nice views over another part of Budapest. On the wing opposite of us, a couple celebrated their wedding with their closest 30 friends. The feeling of elegance and quality is combined with a trendy clientele and happy staff.
Food and drinks
The food at the High Note was modern and very well cooked and nicely presented. The beautiful courses were served one after another and brought the appetite to a peak before you got the food in your mouth, and we overwhelmed by it. In the menu, you will find everything from Beluga Caviar to simple finger foods like olives that enables all types of social meetings.
The drinks were very well-made and also aesthetically appealing. They spent a lot of time on each drink, and they tasted delicious! We strongly recommend asking the staff to surprise you based on the tastes you prefer. They did a great job with us.
Profile pictures
High Note is a must for you Rooftop lovers! And you, if you are considering changing your profile picture on social media, be sure to bring the camera because this place is taking our pictures to new heights!
Like this!
Bullet Points:
• Stylish and modern
• Delightful staff
• Fantastic drinks
• Trendy audience
• A nice broad menu, delicious food but the environment is more lounge then dinner
• Expensive but high value
• Magical views
• Good location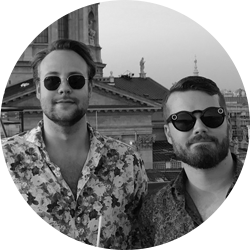 Written by:
Olof & Carl, for The Rooftop Guide