Franco's Bar and Champagne Bar & Grill in Positano
Review
Franco's Bar and Champagne Bar & Grill in Positano
"Magical views in a luxurious environment"
Published: July 7, 2019
One of the best rooftop bars and rooftop restaurants in the beautiful city Positano on the Amalfi Coast. Fancy cocktails and fine dining with a wonderful view! Check out our review here:
Franco's Bar and Champagne Bar & Grill belongs to the luxurious hotel called Le Sirenuse. Both venues are luxurious and goes in the same style and feeling as the hotel. Up here you'll get one of the best views of Positano and over the Mediterranean Sea.
FRANCO'S BAR
The entrance of this rooftop bar is amazing. When entering the vault that leads out on the terrace, you'll get a superb view and feeling directly. The terrace is quite small with a small bar counter and different kinds of seats like sofas and chairs. The best ones just by the edge of the terrace.
You can't book a table here, so make sure to get here in good time to get a good seat. And make sure to dress in a respectable and nice way to blend in among the trendy and classy crowd that gathers here. During the warmer days it super-hot up here until the sun goes down behind the mountains (around 6:30 PM in summertime).
We tried both some classic cocktails and some mocktails as well. All where made with love and tasted just like they should. A visit in Positano demands a little higher travel budget then many other places in Italy, and so does Franco's Bar. But the quality of everything you'll get is well worth it.
We loved both the view, service and atmosphere up here. If we must complain about something, it would be that the terrace is quite small. But this also adds to the exclusiveness which I think is something good.
CHAMPAGNE BAR AND GRILL
Champagne & Oyster Bar is sumptuously furnished in a beautiful and classy way. The restaurants is open in the evenings from May to mid-October, weather permitting. This is an ideal place for a glass of champagne and fresh food from the ocean.
The mouth-watering menu offers grilled and fried Mediterranean specialties, pasta dishes and other delicacies. We decided to go for a classic 3-course dinner with Champagne to drink.
Caviar blinis, tuna tartar, seabass, veal, tomatoes, grilled vegetables and much more stood on the menu for us. The starters were amazing with the caviar blinis as a big favorite. Main courses tasted good as well. Nothing that made us blown away, but still very good.
The homemade sorbet and ice cream plus chocolate cake for dessert tasted like heaven. Perfect way to end a great dinner.
SWIPE FOR MORE FOOD PICS
We loved the atmosphere up here. Harmonious, luxurious and relaxing at the same time. Just like it should be for this kind of dinner. Unlike Franco's Bar, it more than advisable to book your table in advance. During summertime the restaurant is super popular among both the guests of the hotel and outside guests.
CONCLUSION
If you visit Positano, we can recommend a visit at both Franco's and Champagne Bar & Grill. Franco's is perfect for some cocktails while watching the sunset and Champagne Bar is the ideal place for a exclusive dinner with your friends, loved one or family.
Address: Via Cristoforo Colombo, 30, 84017 Positano SA
• Bar and restaurant
• Amazing view
• Luxurious
• Classy
• Delicious desserts
• Great service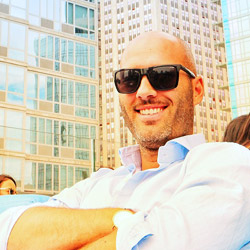 Written by:
Hans Ebenman
- Co-founder, CEO & rooftop expert at The Rooftop Guide