The smashing Double-Six Luxury Hotel Seminyak and their Rooftop Sunset Bar
Review
The smashing Double-Six Luxury Hotel Seminyak and their Rooftop Sunset Bar
"Come for the sunset, stay for the drinks, food and service"
Published: September 11, 2018
Five great dining venues, beach location with a private beach spot, a 120 meter swimming pool, great service, á la carte breakfast. What else, except a sunset rooftop bar, do you need?
Bali is by no means the biggest island in the world, but still has huge diversity of places and areas to visit and to stay in. So it's a bit tricky to decide where to park your flip flops if you only have a week spend.
And it was the same for us, but with rooftop bars in mind, Double-Six in Seminyak with their Rooftop Sunset Bar felt like a really good choice. And it sure was!
Rooftop Sunset Bar
One sentence about the Double-Six rooftop would probably be: come for the sunset, stay for the drinks, food, service and the 80-90's VJ. We spent one full night up here enjoying all of this, plus the lovely company of Erling and Shiella from the hotel marketing department.
To get to the Rooftop Sunset Bar you have to take a separate elevator at the hotel reception. The rooftop is open for all, both in-house guests and non-guests.
Entering up on the 5th floor you find a beautiful and huge rooftop, over 1700 square meters. The main and middle part feels like a large hut, with a bar and a very long sofa crawling through. Very stylish, but the best part of the terrace are the "floating pods" out at the edge. Seating up to 8-10 persons each, the pods are immersed in water, creating a feeling of being in the ocean while also having the most amazing views over the same ocean.
The Pods
Middle part of the terrace
We had a 5-hour sitting in one of the pods, starting with some bubbles and enjoying the absolutely amazing sunset that you get up here. Really worthy of the name 'Rooftop Sunset Bar'!
Enjoying sunset hour
As darkness fell we then went through quite alot of the rooftop menu, both regarding drinks and food. There is a great selection crafted signature cocktails, along with some classics on twist. All were very refreshing and well made, with our favourites being the Gin based 'London Calling' with elderflower and fresh lemon juice, and the peach flavoured 'Madame Bellini'.
And while great cocktails was almost expected, a positive surprise was that the food also being really good. We had a mix of bar bites to share and some more filling meals, including 'Chargrilled Black Angus Rib Eye', 'BBQ Surf & Turf Skewers', 'Grilled Snapper', 'Classic Cheese Burger' and some really tasty Popcorn Chicken.
BBQ Shrimp
Popcorn Chicken
Chevice
Chargrilled Black Angus Rib Eye
Grilled Snapper
Classic Cheese Burger
BBQ Surf & Turf Skewers
Cocktails
Through the evening we were lucky enough to have the company of Erling and Shiella, telling us all about the rooftop and the hotel, but also everything about Bali and some about the world in general :) We can just say thank you so much for a very fun and rewarding night!
Great crew!
One thing they told us about was a secluded part of the terrace called Carmen, a large area that can be rented for private events. For instance, a really special rooftop wedding with magic ocean views. Along with the other amenities around the hotel it sure would make for a day and night to remember.
We also talked about the great New Years Eve parties held up here every year. And we learned the name Double-Six comes from an old night club that used to be at this spot. Which also has given name to the beach and the road outside, all called Double-Six.
Carmen terrace
After dinner we spent a couple of hours just relaxing in our pod, enjoying the vibe. And as kids of the 80's, we loved the VJ-action starting up at around 7pm. Classics from the 80's and 90's coming out of the speakers along with the music video to every song shown on screens all around the terrace. You could even put in a wish for your favourite tune.
All through the night the atmosphere was sophisticated but yet fun and relaxed, perfect for just hanging out in a couch chatting, but it wouldn't feel to strange getting up and do some moves to the music.
Restaurants
Apart from the Rooftop Sunset Bar there are four more drink- and dining venues at Double-Six. Lagoon Bar is the pool bar, serving both drinks and a light menu throughout the day. The Plantion Grill Seminyak is a very luxurious, New York-inspired grill, serving great meat (among other things).
We had dinner here one night and enjoyed live music, super tasty beef- and tuna tartar being made at the table and a 1920's inspired dessert cart.
Beef Tenderloin Fillet
Table-made Tuna Tartar
Above the grill you find Sling Bar, perfect for a pre-dinner cocktail, feeling classic and extra fancy. And then there is Seminyak Italian Food, an all day modern trattoria overlooking the beach. But more so, the place where we enjoyed á la carte breakfast every day. Absolutely fantastic!
A large menu of options, choose as much as you want and it is made fresh. Want more? Just order more! From any type of coffee and fresh juice to house made granola, seasonal fruit, black truffle scrambled eggs, eggs Benedict, avocado mousse, buttermilk pancakes to more "foody" international dishes like the Indonesian Mie Goreng, the Korean Bipimbap and the Mexican Corn Tortilla.
With views over the pool area and the ocean, it is the perfect start to any day.
Seminyak Italian Food
House made granola / French toast
Eggs Benedict / Green Pandan Pancakes & Dragon Fruit Boost Drink
Facilities
The main facility at Double-Six has to be the 120 meter long swimming pool, located between the hotel and the beach. Stylish, refreshing and you can almost swim from end to end of the hotel building, and some of the lower floor rooms have direct access out to the pool.
120 m of pool
Just a 10 meter walk from the pool and you are at the beach, where Double-Six have their own little spot with sun beds, staff and umbrellas. On the 2nd floor inside the hotel there is also a smaller gym to keep the beach body intact and a spa where you can enjoy a wide range of treatments.
Rooms
The rooms at Double-Six are huge. We stayed in one of the smaller ones, it was "just" 80 square meters... But they are not only big, they are really great as well.
All come with a balcony, most with ocean views, some with direct access to the large pool and some with a private little plunge pool. The bed was large and extremely comfortable. There is a long work station/desk, a big sofa and TV, a very stylish mini-bar with Espresso Machine and the bathroom has a separate shower and a bath tub with another TV. Minus a kitchen it feels alot like a big and luxurious apartment.
There is also a lot of nice little amenities, like Kimono and slippers and some lovely Hermés shower gel.
Conclusion
Double-Six Luxury Hotel is not the cheapest option available in Bali, but if you want a stay in Seminyak including just about everything you can wish for, then it is a perfect choice.
We loved our stay here! From the rooftop and the á la carte breakfast to the great service, including check-in at the room. Sitting in a sofa being served a cool welcome drink and refreshing towels beats standing around waiting in a lobby all days of the week.
Comfortable check-in
• Fantastic Sunset Rooftop Bar
• 24/7 butler service
• Close to beach and restaurants in Seminyak
• Huge and modern rooms
• Large and refreshing swimming pool
• À la carte breakfast
• Great dining options in-house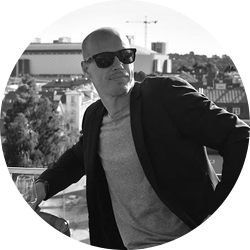 Written by:
Rikard Fredricson
- Co-founder, Creative & rooftop expert at The Rooftop Guide