Review of Dear Hotel in Madrid
Published: May 7, 2018
Dear Hotel is a centrally located 4-star hotel with a fantastic roof terrace and rooftop pool:
If you're looking for a stay at a great hotel in the heart of the city, Dear Hotel is a good choice. The hotel also posses one of the mightiest roof terraces in Madrid, equipped with 2 sun terraces, 1 rooftop pool, 1 rooftop restaurant and 1 rooftop bar. The perfect place to unwind with some drinks or to start your day with a morning bath.
The bar and rooftop restaurant:
The rooftop restaurant has both an indoor area and two smaller terraces for those how like to enjoy their food and drinks outside. The views from here are quite spectacular. Both over the city and also over the green areas outside the city center.
We decided to have a dinner and drinks here our first evening. The rooftop is called "Nice to meet you". A slogan that really applies. You'll feel very welcomed directly when stepping out of the elevator.
The food menu consists in some classic tapas but also classic plates like salads and things like that. We ordered some tapas along with some Aperol Spritz and beers. A perfect way to start the evening with.
The food was good. Not fine dining but still very good. Drinks were made to perfection. The Aperol Spritz was delicious. Nice to meet you, is a good rooftop restaurant for a dinner or just some evening drinks.
Swipe for more food pics
The terraces and swimming pool:
The best thing about Dear Hotel – in our opinion – is the amazing sun deck and small rooftop pool. The terrace is also equipped with some sun loungers and comfy sofas.
We went up to the sun deck at 9:00 AM to catch some early sunrays. As usual during this time of the day, we had the whole terrace for ourselves. The best way to enjoy a fancy roof terrace. We could take a dip in the pool, hangout in the sofas and also take some great pics of the area.
Later during the day, the terrace starts to fill up with people trying to catch some sun while gasping out over the beautiful rooftops of Madrid. This terrace is only available for the guests of the hotel, while the two terraces (one floor down) belongs to the restaurant and can be used by all.
The hotel:
We stayed in the suite located at the 10th floor. The room was spacious with both a living room, a small terrace, a large bathroom, a big bedroom and a 50-inch TV. We even had our own coffee machine where we could make some tasty and genuine espresso and cappuccino.
The breakfast is served on the 14th floor in the rooftop restaurant. You can choose between fresh fruit, croissants, bread, jamon, cheese, juices, coffee, cava, yogurt, salads, pastries and much more. You can also order things like Eggs Benedict, avocado toasts etc from the menu. In other words, this breakfast has most things one can ask for.
The staff working here is very friendly, attentive and service minded. Big plus for that! You always feel welcomed and well taken car off here. We couldn't be happier of our stay at Dear Hotel.
Swipe for hotel pictures
Swipe for breakfast pics
Coclusion:
Dear Hotel has everything you can ask for, when speaking of a great stay in one of Europe's best cities. A great terrace, rooftop pool, fancy rooms, superb breakfast, attentive service, nice food, a central location and a lovely atmosphere.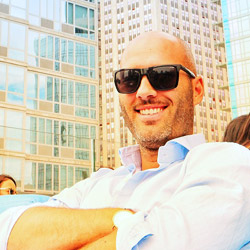 Written by:
Hans Ebenman
- Co-founder, CEO & rooftop expert at The Rooftop Guide