Full review of Hotel Belmond Caruso in Ravello
Review
Hotel Belmond Caruso in Ravello
"One of the best infinity pools in the world!"
Published: July 4, 2019
One of the best infinity pools in the world, an amazing lunch and a harmonious dinner with a beautiful view. Hotel Belmond Caruso has it all!
Belmond Hotel Caruso is one of the most luxurious and famous hotels along the Amalfi Coast. The 5-star hotel with its beautiful venue is a dream for any photographer, Instagrammer or epicurean. The hotel is equipped with a pool area, a garden restaurant, a rooftop restaurant and much more.
On the hills of Ravello you'll find this hidden gem that's also a super popular place for weddings. During high season there's almost 1 wedding per day here. And we can understand why! Here's our full day experiences which was one of the best days during our 4 years as reviewers.
THE INFINITY POOL
The "rooftop" infinity pool is probably the biggest reason why so many people like to stay here. This is one of the best and most beautiful swimming pools in the whole world. Find our top list of rooftop pools here.
From the infinity edge you'll get a mighty view over the ocean, surrounding mountains and nature. It's so beautiful that you have to see it live to understand how good this is.
Amazing infinity edge of the pool
Relax and just watch the beautiful views
Chillin
The pool area is also made to perfection. Sun loungers to relax in, a lunch restaurant with possibility to eat in the shadow or sun and lots of beautiful flowers everywhere. It never gets overcrowded here as it's only guests of the hotel that can use the swimming pool. Make sure to get up early to get a good spot for your sun lounger. It's well worth it.
Drinks and refreshments can be ordered to your sun lounger at any time. Service is both attentive, fast and always with a smile. As you should expect from a 5-star hotel.
Comfy sun loungers in a beautiful environment
Evening by the pool
SWIPE FOR MORE POOL PICS
LUNCH RESTAURANT
The lunch restaurant is located under a roof with breathtaking views in all directions. The specialty here is pizza or food directly from the Mediterranean. We decided to try some different pizzas and some local wine.
This part of Italy is the home of pizza and you can expect some of the best made pizzas in the world while visiting this coastline. At Belmond Hotel Caruso they have some of the best. All ingredients are local and super fresh.
The tomatoes and mozzarella are so good that you will be blown away by its taste and structure. Make sure to share some different pizzas as all of them has their own taste and look.
Lunch with a view
Beautiful setting
Pizza time
SPARKLING GARDEN
Located in the hotel gardens, along the ancient colonnade that leads to the swimming pool, Sparkling Garden is the perfect place for an aperitif or a casual dinner. The vibe here is super relaxed and harmonious. The perfect location to unwind at, after a day at the beach or by the pool.
Sparkling Garden
We decided to try an 8-course dinner with some local wine. The 8-course dinner is inspired by classic street food from Naples. When everything was set and done, we ate 10 different courses. All of them unique in their own different way.
The food and wine were great. We let the pictures speak for themselves. Swipe left!
SWIPE FOR MORE FOOD PICS
CONCLUSION
If you have the chance to stay at Belmond Hotel Caruso, it's definitely worth a visit. It's very expensive, but you'll get a memory for life and some magical photo opportunities. The best part is the infinity pool. It's hard to find a better place and view to enjoy a swimming pool.
And for the hungry ones there are several options to choose from. Relaxed lunch, upscale fine dining, a casual dinner or a harmonious aperitif. One of our favorite hotels and swimming pools in the world! And here you can find more rooftop bars and pools on the Amalfi Coast.
Address: Piazza S. Giovanni del Toro, 2, 84010 Ravello SA
• Amazing infinity pool
• Roof garden and restaurant
• Lush decor
• Luxurious and private
• Pizza to die for
• Beautiful view and decor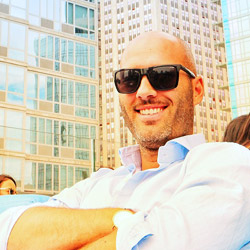 Written by:
Hans Ebenman
- Co-founder, CEO & rooftop expert at The Rooftop Guide