Balkon Restaurant & Bar in Istanbul
Review
Lunch at Balkon Restaurant & Bar in Istanbul
"Cozy and relaxed"
Published: June 11, 2018
Cozy and relaxed rooftop bar with classic pub food and superb views:
Balkon Restaurant & Bar is a one of a kind rooftop bar in Istanbul. Most rooftops here are very fancy, but this place is relaxed and bohemian with a lovely view over the Bosporus and the city.
We decided to have a late lunch and some beers here during a Saturday afternoon. It was hot as hell, but the fact that the terrace has an adjustable roof, we had the possibility to sit in the shadow.
Atmosphere and view:
During lunch time, the atmosphere is very calm and relaxed. The terrace is quite big and there were a lot o free seats available here.
The staff working here is super friendly and very attentive. Not that common in Istanbul. Big plus for that! Our host Batu was great. Funny, attentive, fast and very polite. Just as service should be like.
The view from Balkon Restaurant & Bar is spectacular in the direction over the Bosporus. Mighty ocean views with the city as a cool backdrop. The fact that the terrace isn't perched on a high floor, you still get a good overlook of both the city and surrounding areas.
Food and drinks:
If you're looking for a fancy dinner this is the wrong place. Here you do best in ordering some classical pub food like burgers, salads, quesadillas, kebab etc. To this, lots of beers. And that's exactly what we did.
Perfect if you want a chilled-out lunch in the sun while gasping out over this mighty city. The food is ok and what you can expect from a nice pub menu. Nothing fancy, just regular and tasty street food that works perfect with some beers in the sun.
Conclusion:
Like mentioned several times before - Balkon Restaurant & Bar is a perfect rooftop bar when looking for a place that's not as posh as many of the other rooftops in Istanbul. This place is super relaxed and with a nice vibe. Well worth a visit if you ask us.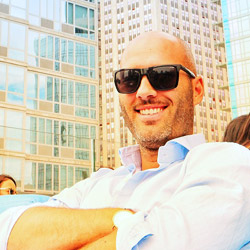 Written by:
Hans Ebenman
- Co-founder, CEO & rooftop expert at The Rooftop Guide