Review of Aroma Rooftop Restaurant in Rome
Review
Aroma Rooftop Restaurant in Rome
"Michelin starred food and 5-star views over Colosseum"
Published: July 10, 2019
A fine dining lunch at its very finest, with amazing close up views of the Colosseum. Check out our full review of the intimate and luxurious Aroma Restaurant.
The Michelin starred Aroma Restaurant is set on the fifth floor of the amazing Hotel Palazzo Manfredi. While the hotel and rooftop does not look like to much from the outside, the inside is a different story.
Luxurious and intimate to say the least, and looking out you have a large part of the most historic Rome, right below your feets.
Views & Setting
To get up to Aroma Restaurant, you take a tiny elevator (2 persons is a good fit) from the lobby up to the fourth floor, then one floor of stairs to get to the rooftop. Seating is all outside, on the quite small and very intimate terrace. 28 seats to be exact.
The setting is very elegant and luxurious, with tiled floor and nicely decorated dining tables. A very nice touch is that all tables are organized so that no one has there back towards the view.
Ah, the view. While Aroma do serve Michelin starred food, it is hard to argue that the view is not an equal and unique selling point. Right across from the terrace you are eye to eye with the mighty Colosseum. It's hard to find a better vantage point in all of Rome, and we would argue that a visit to Aroma beats entering the oval amphitheatre all days of the week.
Our visit at the rooftop restaurant was for lunch on a really hot day. To shield a bit from the sun, the retractable roof was up over the terrace. We where very glad it was, cause we probably would have melted otherwise. The only downside is that you loose a bit of the view and open-air feel.
Atmosphere
A lunch up at Aroma Restaurant is sophisticated for sure, but still not to stiff or formal. Since the terrace is small, the vibe gets quite intimate, and after a while you almost 'know' the other lunch guests. Which is nice!
The service was very professional, as can be expected from a Michelin restaurant. But not only professional, also fun and friendly, with all waiters happy to give advice on food and drinks and always close to a smile.
The more casual lunch-vibe also meant we could be a bit cooler in shorts (close to a lifesaver). If you visit for a dinner, the dress code is more enforced smart casual, so then the trousers and shirts must be on.
Food & drinks
We started our lunch with a nice and dry bottle of champagne. Refreshing and cooling in the warm weather, and having a toast while gazing out over Colosseum and Rome is hard to beat.
But you can't live on bubbles alone, and after some (friendly) discussions with our waiter, we decided to go for tasting menus. Promoted as a gastronomic journey made by Executive Chef Giuseppe Di Iorio, it sounded like a great option. And it sure was!
Aroma do also serve á la carte for lunch (and dinner), and the menu has quite a lot of options. But when you have the chance, it is always nice to try many different courses, and just let the chef (who probably knows best) make the decisions.
Well, not ALL the decisions, as you get to choose if you want the base of the 'gastronomic journey' to be fish or meat. We went with 50/50, as sharing is caring and we then could try as many flavours as possible.
You know you are most likely in for a treat when the bread served before lunch is delicious. And it sure was here. Then the dishes started rolling in, and they where all unigue, tasty and beautiful in presentation. From the 'Chef's Welcome' through the antipasti, pasta and main courses.
With so many fantastic dishes, it is hard to say 'this or that one' was the best. We all loved the egg with chicken extract, ricotta cream and black truffle. Sometimes the meat dish was a little bit better than the fish, sometimes it was the other way around.
This could go on and on, but let's just settle with determining it was a truly fantastic lunch. An array of exciting and unique dishes, and also cool touches, like the tomato bread being dripped with a strong and tasteful extract right at the table.
No top class lunch is complete without some dessert (and a glass of grappa). And while all the food was fantastic, Aroma almost kept the best for last with one of the best crème brulée we have ever tasted
Sweet prelude
Verdict by facial expression
CONCLUSION
For a meal to remember in Rome, Aroma Restaurant is close to the obvious choice. Fantastic food, unparalleled views over Colosseum and top class service. What more can one ask for?
Worth noting is that it's not a place you just drop by, so make your reservations well in advance. And the price tag is in the higher region, so a perfect spot for special occasions. Like our long and fantastic lunch, or a dinner in the most romantic setting.
Address: Via Labicana, 125, 00184 Roma
• Michelin restaurant
• Amazing Colosseum views
• Luxurious
• Unique
• Great service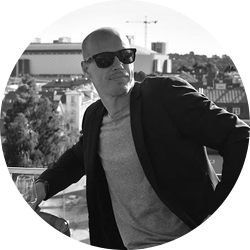 Written by:
Rikard Fredricson
- Co-founder, Creative & rooftop expert at The Rooftop Guide