The amazing Aria Hotel and cocktails at a winter dressed High Note SkyBar
Review
The amazing Aria Hotel and cocktails at a winter dressed High Note SkyBar
Magnificent year-round
Published: March 11, 2019
The music inspired Aria Hotel is one of the best hotels in the world, awarded multiple times and very much a The Rooftop Guide favourite. A lot thanks to the fantastic and year-round High Note SkyBar. Magnificent rooftop bar on top of a magnificent hotel.
We spent two lovely days and nights at Aria Hotel in Budapest, glass half full in the beginning of spring, glass half empty in the end of winter. It doesn't really matter, as all times of the year is a great opportunity to visit this both luxurious and very relaxing place.
Paradise for music lovers, but also for anyone just loving the good life. Watch and read our experience and full review:
CHECK OUT: FULL VIDEO REVIEW
HOTEL & ROOMS
Located on a calm street in the central part of Budapest, right next to St. Stephens Basilica, Aria is grand right when stepping into the lobby. A piano key floor leads into the beautiful Music Garden, which is really the focal point of the hotel. Bright, stylish and spectacular thanks to the very special SkyDome glass ceiling looking up the courtyard of the hotel and continuing up towards the sky.
Musical Garden
Staying at Aria Hotel means you will pass the Music Garden many times, not only when going in and out, but this is also where both the complimentary Afternoon Wine & Cheese and Breakfast each morning is served.
Starting with breakfast, which is (as we all know) the most important meal of the day, and at Aria you really get off to a great start. After being offered some freshly squeezed orange juice and making a decision on which type of coffee you would like, you can dig into the medium size cold buffet.
Not overwhelming in options, there is a nice and fresh selection of bread and pastries, cold cuts of ham, salami and salmon, cheeses, fruits, yogurt and granola. And the only medium sized buffet is btw a good thing, leaving more room for the tasty hot breakfast dishes you can order fresh from the kitchen. We tried Eggs Benedict, pancakes with maple syrup and home-made oatmeal with berries. Delicious and fresh!
The Afternoon Wine & Cheese is a great chance to enjoy two things: a very nice selection of red, white and rosé wines along with a great selection of cheese, grapes, marmalade and nuts. And also the live music acts, originating from the famous Boganyi piano.
During our two afternoons here we made full use of the fantastic and soothing combo of some live music entertainment and one (or maybe two) glass of wine.
Wine & Cheese
Next to the Musical Garden is a full Music Library, and this air of music shines through in all of the hotel. Divided into four different wings, each with its own musical theme (jazz, opera, classical & contemporary), each of the 49 guestrooms also pay tribute to an iconic and unique artist.
We had the honour to share a room with Stravinsky, but also got the chance to have a look into rooms belonging to other greats, like Mozart, Ella Fitzgerald, Beethoven and Jimi Hendrix.
The rooms are not just named after these iconic artists, but also come with cool and caricature-like paintings of them, along with books about them, giving you as a guest the chance to better get to know your new 'roommate'.
Stravinsky
Beethoven
Ella Fitzgerald
and Mozart Room
While the artist-connection is part of what gives the rooms at Aria a unique touch, it is far from the only thing making them great. Stylish and beautiful in decoration, with attention to all the details, the list also includes: a large and out-of-this world comfy bed, in room iPad and mobile phone, docking station for iPhone/Android, marble fireplace mantle with 55" flat screen, complimentary water and coffee, remote controlled window blinds and a fantastic and fully marbled bathroom, many which come with both bathtub and shower and all equiped with a chandelier.
Fantastic bed
Details
Some of the rooms come with windows and terrace out towards the city, while our room had two doors leading out to a large terrace, equipped with comfy lounge furniture and looking out over the hotel courtyard. Usually this would mean quite a boring view, but the courtyard at Aria is something special.
Look down and you see all of the action in the Musical Garden through the glass roof, and looking up you see the sky but can also try and guess the names of the artists portrayed on the small glass extension running around the upper part of the courtyard.
Courtyard
HARMONY SPA
Visiting Budapest in February might mean that not all hours of the day are 100% warm and fuzzy outside. As a result: a great time to visit a spa.
Staying at Aria, this can be sorted just by putting on the included bathrobe and slippers and head down to the bottom floor and the extremely relaxing Harmony Spa. Here you can find everything the body and soul needs for complete pleasure, including a wide selection of different treatments.
While we did not try any of the treatments, we managed two long and fantastic sessions in the spa just enjoying the swimming pool, the jacuzzi and both the hot and the steam sauna. And really just lounging around in the comfy daybeds, surrounded by dim lighting and a perfect temperature. Pure relaxation.
Relaxation
WINTER GARDEN AT HIGH NOTE SKYBAR
The Musical Garden might be the central point of Aria Hotel, but for us true rooftop enthusiasts, the crown jewel is still the fantastic and year-round rooftop bar, called High Note SkyBar. While we have visited the rooftop before, that has been during the warmer, sunny and more open-air friendly months, so we were very excited to check out the winter version of High Note.
The majestic close up views of St. Stephens Basilica and amazing 360-vistas over Budapest are of course the same both winter and summer. But the summerish terrace lounge furniture is in winter replaced with more regular tables, a wooden cabin and lots of plants with light decorations, creating a very cosy roof garden feel.
Extra cosy during night, just make sure to bring a coat and hat to keep warm. On a sunny winters day the terrace is bathing in sunlight, just as during summer.
Daytime views
Night time lights
Winter time also means more use of the two lovely glass-pavilions, one on each side of the terrace, with the retractable walls and roof closed, keeping everybody warm and cosy. This is where we had a table for some early night cocktails and bites.
This winter season, the rooftop has a theme called 'Film at High Note SkyBar' (running through March 2019). Visible both in decoration, with framed pictures of a bunch of major movie stars, directors chairs and clapper boards as reservation signs, but also in the food and drink menu, with each cocktail and dish taking inspiration from a legendary movie.
Cocktail menu
Food menu
The rooftop bar is famous for their unique and fantastic cocktails, and we had the luxury to get some recommendations on drinks from bar managers Richard Mihaly and Peter Gozon, but more so also got to watch them create the cocktails up close.
CHECK OUT: TRULY HAND-CRAFTED COCKTAILS
There we go: one 'The President' (inspired by State of The Union), made on Sazerac-Cognac and rye whiskey, with fig and home-made apple bitter, and one 'French 7.5' (inspired by Casablanca), a champagne cocktail without the bubbles, made on classic Old Tom gin, a dash of green fairy, Tokaj sweet wine reduction, herbal soda and champagne acid.
Both cocktails creative in presentation and delicious in taste.
French 7.5
The President
We enjoyed the cocktails together with some very fresh bar bites. 'The Sailor Man' (inspired by Popeye'), a vegetarian dish of spinach, ricotta gnocchi and croquant served with spinach velouté and garlic chips, and 'The Catch' (inspired by Salmon Fishing in the Yemen'), slow cooked salmon served with cous cous, sesame gel and a salty lemon dressing. The last one was a real hit.
The Catch
The Sailor Man
A stylish, relaxing and charming setting and vibe, together with great service, makes High Note SkyBar a great 'go-to' place also in winter, perfect for a cosy night out, trying some fantastic cocktails.
CONCLUSION
Being one of the very best hotels in the world, it is not hard to recommend Aria Hotel. We would go so far as to say that a Budapest visit will probably be about twice as good if you choose to stay here. We for sure loved every minute of our stay.
While it is in on the higher end in price, it is great value for money and worth every penny. You get an incredible service and a luxurious and modern, yet unique and charming setting, where it feels like every detail has been thought off. Not to mention free access to the relaxing Harmony Spa and the tasty and complimentary breakfast and afternoon Wine & Cheese.
If you don't stay at Aria, you should at least visit the High Note SkyBar once, either for sunny summer drinks or cosy winter cocktails. We are pretty sure you will find a creation that you love, and if you (highly unlikely) don't, you will for sure be amazed by the fantastic views.
Address: Budapest, Hercegprímás 5, 1051
• One of the world's best hotels
• Paradise for music lovers
• Luxurious & relaxing
• Wine & Cheese Afternoons
• Rooftop bar with fantastic views...
• ...and amazing cocktails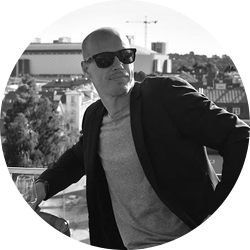 Written by:
Rikard Fredricson
- Co-founder, Creative & rooftop expert at The Rooftop Guide