Area 31 at Epic hotel in Miami
Review
Area 31 at Epic hotel in Miami
"The hype and dream lived up to all expectations"
Published: April 3, 2018
To visit Area 31 has been a dream for us for a while now. And the hype and dream lived up to all expectations. Read more about it here!
As usual, we reserved our table just before sunset to get both daylight, sunset and darkness. In this way, we get to experience to rooftop to the fullest. We arrived at 6:00 PM.
The sun was shining and the atmosphere sophisticated and relaxed. Perfect conditions for a lovely rooftop evening.
We got a table right by the edge of the terrace, overlooking the mighty skyscrapers surrounding the hotel. The rooftop bar is perched on the 16th floor, but it feels as you are on the 60th floor up here. Dazzling views over both the skyline, sunset and ocean.
Ceviche Mixto
Lamb chops
Food and drinks:
Directly when we sat down we ordered two cocktails. The signature "Sunset" and a delicious sour drink (forgot the name). We also spoke to the chef and decided that they would make us some signature plates of the best food they had to offer. And WOW, this was some of the best food we ever had on a rooftop.
Everything was made to perfection and all ingrediencies were fresh. All seafood is from local fishermen and caught the same day. You can't ask for better food then this.
The "Ceviche Mixto" was the best ceviche we ever had, and the lamb chops was the best lamb we ever tasted. Flavors were spot on and everything felt so fresh and healthy. The chefs deserve all praise and recognition they can get for the food. Absolutely brilliant!
SWIPE for more pictures below:
Atmosphere, service and views:
When stepping out on this big terrace, you'll get feeling of being on top of the world. The views that surrounds the rooftop are both mighty and beautiful. You get both skyscraper and ocean views from here.
Regarding the atmosphere it differ from what time you visit Area 31. During early evenings it's a more sophisticated feeling with people having afternoon cocktails in the bar or dinner guests in the dining terrace. And later in the evening there's a more vibrant and party friendly feeling that surrounds the whole place.
Service was also spot on. Our waiter, Erica, was fantastic. She was both funny, fast and attentive. That kind of waiter that makes your visit both better and more relaxed.
And we have already mentioned the chefs. But it's worth to praise them again.
Conclusion:
It's no secret that we loved Area 31. One of the best rooftop bars we've been to. And we have visited over 600 rooftops during the last 2-3 years. There's nothing to complain about here. Everything was top notch!
We recommend Area 31 at Epic Hotel to everyone that will visit or are living in Miami. You won't be disappointed.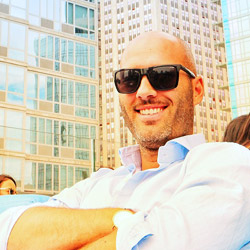 Written by:
Hans Ebenman
- Co-founder, CEO & rooftop expert at The Rooftop Guide