5. Kat and their lovely rooftop restaurant in Istanbul
Review
5. Kat and their lovely rooftop restaurant in Istanbul
Harmonious dinner with a view
Published: June 18, 2018
A harmonious dinner with a view has never felt more right, than at 5. Kat:
5. Kat rooftop restaurant is a well known and classic rooftop bar in Istanbul. The place has ben around for over 25 years and is probably the oldest rooftop in this enormous city.
When stepping out of the elevator your met by spectacular panoramic views of the city and the Bosporus. And what strikes you first is the great vibe here. Perfect setting for a romantic dinner, a dinner with your friends or with the whole family.
In other words – 5. Kat suits every dinner opportunity.
View and vibe:
Like mentioned before, this rooftop is the ideal place for a dinner. And the phrase "dinner with a view" has never felt more fitting.
We got a big table by the edge of the terrace overlooking the Bosporus. The sun was starting to set which created a beautiful view over both the city and surrounding landscape.
The atmosphere is very calm and harmonious. The background music was played at a nice volume which meant that you could sit and speak without having to shout to each other.
We could see both romantic dates, family's and larger companies with people having dinner here. The variety created a great vibe for all guests.
Food and drinks:
The fact that this rooftop is most suitable for a dinner, means that there's a great variety of different food to choose from. Here's the full menu for both food and drinks: http://www.5kat.com/en/menu
We tried some pastas, meat and sharing plates. Loved the sharing plate consisting in some warm snacks like fried halloumi cheese, quesadilla, falafel, and crispy chicken fingers served with special sauce.
The mains were super big. Lot's of food, which meant we got very full and couldn't try the desserts. A thing for our next visit here. If you're a sweet tooth, there are a lot of delicious sweets to choose from the dessert menu.
The drink menu was super large with lots of classic cocktails, beers, wine, champagne, whiskey and everything you can think of when it comes to beverages. A very pleasant thing for those who likes great quality of drinks in all its shapes. We had some wine and beers, which suited our food menu very well.
Conclusion:
If your looking for a rooftop restaurant with nice views and a big drink/food menu in a harmonious atmosphere, 5. Kat is the place to visit. You won't be disappointed.
We can recommend this to everybody who will visit Istanbul soon. This place has been around for more then 25 years and it will probably be around at least 25 years more because of their unique and popular concept.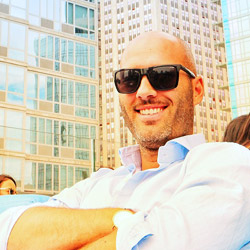 Written by:
Hans Ebenman
- Co-founder, CEO & rooftop expert at The Rooftop Guide