360 Istanbul – the perfect rooftop for a great rooftop party!
Review
360 Istanbul – the perfect rooftop for a great rooftop party!
Full evening with food, drinks and party
Published: June 4, 2018
One of the best party spots with a view in Istanbul. Read our review from a full evening with food, drinks and party at 360 Istanbul
When entering the building and elevator, this place doesn't look like much for the eyes. But when stepping out of the elevator on the 9th floor, you'll be amazed. 360 Istanbul has a big restaurant with a large terrace overlooking the city and Bosporus. A fantastic view and atmosphere gets to you directly. We decided to do both dinner, drinks and party.
360-view of the terrace
Atmosphere and view:
If you like a vibrant atmosphere in a modern setting among party happy persons, 360 Istanbul is the ideal location to visit. During early evening there's a more sophisticated vibe with many dinner and cocktail guests. But as the night rolls along, the vibe gets more lively and on certain evenings there are live performances here.
We were lucky to time in two super cool live shows. One gymnast making tricks in the middle of the restaurant and one singer in true Frank Sinatra way. Both were superb in their own way.
The view from the terrace is breathtaking! Sweeping city views over both the city and the Bosporus. As usual, the view is always best before darkness, but from 360 Istanbul you'll also get a very nice view over the city lights and buzz during darkness.
It's always recommended to book your table in advance here. During the weekends the place is packed from afternoon until late at night. If you like a table on the terrace, make sure to let them know that, in your reservation.
Food and drinks:
We decided to share some starters, a couple of main dishes and some dessert. The starters were my favorites. Some spring rolls, falafel, calamari's and hummus. Everything tasted very fresh and local.
As mains we tried the house kebab and fish. The exact same feeling there. Fresh, well made and very Turkish. And for dessert we shared some baklava, fruits and chocolate cakes. WOW! This was the icing on the cake.
Service however could be more attentive and fast. But this goes for every place we visited during pour stay in Istanbul. It seems to be a Turkish thing. The younger staff was way better at good service then the older waiters. So, maybe it's a cultural thing here in Turkey.
Conclusion:
All summed up, 360 Istanbul is a lovely rooftop bar. Perfect if you like to party among a trendy crowd. The live performances and quality of the food makes us recommend this rooftop to everyone visiting Istanbul.
Make sure to book your table in advance, and you'll be guaranteed an amazing evening here.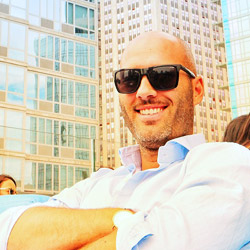 Written by:
Hans Ebenman
- Co-founder, CEO & rooftop expert at The Rooftop Guide