Review
Bar 360 in Budapest
"Hot temperature, refreshing drinks and sweeping city views"
Published: November 10, 2017
It was a scorching day in Budapest with its 40 degrees and radiant sunshine. In the middle of the city center, we visited this gem, Bar 360, just as the name describes, a 360-degree rooftop view of the whole city.
The Bar 360 is a relaxed waterhole located up high with great city views. One of the best views from a Budapest rooftop bar. Here you can come in T-shirt or shirt, and the whole bar exudes an urban city environment with simple furnishings and yet with fresh features in color and material choices.
Compared to other rooftop bars that attract a costlier clientele, this is more like your extended living room, where you can quickly drop by between the shopping, an "after work" or why not have a late breakfast.
Food and drinks
The drinks at the Bar 360 were well-made, nothing extraordinary but tasty and reasonably priced. The food was also well-made and enjoyable, and we can highly recommend the local cheese Ewe Fully Grilled.
Decor, toilets and conclusion
On the Bar360 you get sunshine from morning to night as no other houses are blocking the sun. But be aware, you should bring sunscreen since there are few places to hide from the sun.
A little minus is the toilets that are too few and not very clean. 360 should make an effort to change this if they want to attract a clientele who might otherwise think that the urban style might have got too much foothold with the spartan toilets.
In conclusion, the Bar360 is a very good choice for those who want to have a drink in a more relaxed environment where the quality is still high. With excellent service and refreshing drinks, you will have a lovely day on the roof and with Instagram-friendly environmental images just around the corner.
Bullet Points:
• Nice views
• Guaranteed sun
• Top Value
• Casual
• Drop in-safely
• A younger clientele
• Un-fresh toilets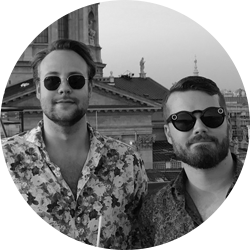 Written by:
Olof & Carl for The Rooftop Guide