Review
137 Pillars in Bangkok
"A luxurious hotel with most one can ask for"
Published: May 2, 2019
A new and luxurious 5-star hotel with two amazing rooftop pools and a rooftop bar with delicious food and a beautiful sunset view. Enjoy!
137 Pillars has been opened for around 2 years now and is already one of the best places in Bangkok for a luxurious stay. The hotel is located in the area Sukhumvit overlooking the city skyline and surroundings.
The hotel has 1 rooftop bar, 2 rooftop pools, a club lounge, several restaurants, gym, golf range/putting, spa and shuttle service. Most you can ask for. Here 's our review from a 2-night stay.
THE ROOFTOP POOLS
There are two rooftop pools located at 137 Pillars. One for all guests on the 27th floor and one more private for all suite guests on the 30th floor. Both pools are infinity pools with amazing skyline views.
The suite pool on the 30th floor is something extra. With sweeping 360 views over Bangkok and infinity edges in 3 directions, this is one of the best and most luxurious rooftop pools in Bangkok and the world. You can also find 2 rooftop Jacuzzis up here plus some fancy cabanas to relax in.
You can also find a nice bar where you can order food and drinks from. As a suite guest you have access to this rooftop 24/7. We tried both morning swim during sunrise, relaxation during the day and nighttime swimming after midnight. Not many rooftop pools you can do that on.
Perhaps this is the only swimming pool on a rooftop that is open every hour of the day.
SWIPE FOR MORE PICS
SWIPE FOR MORE PICS
The infinity pool on the 27th floor is a perfect spot during sunrise. Most probably you'll be alone in the pool during these early hours (around 6:30 AM), but you'll also get a magical view over the city and some great photo opportunities. There are several sunbeds available here and also a big rooftop jacuzzi with a lush décor.
On the same floor you'll also find the rooftop bar called Marble Bar, where you can order food and drinks from. Who needs an ocean and a beach when you have this?
SWIPE FOR MORE PICS
THE ROOFTOP BAR – MARBLE BAR
Located on the 27th floor right next to the rooftop swimming pool. Up here you can enjoy refreshing cocktails and delicious bar bites. The scallops were amazing! And so was the cocktail called Marble's Tini.
All to the mighty skyline view of Bangkok. If you're lucky, you'll also get a beautiful sunset from here around 6:30 PM. Always a good idea to time this, as it will give you some great Instagram pics.
Not many people know about this rooftop bar and the location is a little of from the hectic city center. This means that it's never overcrowded up here. The terrace has 52 seats and are open daily from 6:00 PM to 11:00 PM.
Marble Bar is a perfect spot for some sunset cocktails and nibbles before heading out in the Bangkok night.
SWIPE FOR MORE PICS
THE HOTEL
137 Pillars is a hotel with top notch quality of every little detail you can think of. Everything from the restaurants to the spa. The 5-star quality shines through every corner of the building and of all staff working here.
From the moment we stepped in to the lobby, to the day we left the hotel we felt like kings and queens every second.
If you want the full experience, you should definitely book a suite. The rooms are fantastic, you have access to the club lounge and also exclusive access to the rooftop infinity pool and bar on the 30th floor. You'll also get complimentary afternoon tea and a la carte breakfast in the lounge with an impeccable view of the Bangkok skyline.
Breakfast
Breakfast
Breakfast
French Toast from the a la carte manu
Afternoon Tea
All rooms here are however of very good quality. Bathrooms are big and modern. Who doesn't love to be able to sit in the shower or having a bath while watching TV.
SWIPE FOR MORE PICS OF THE ROOMS
The SPA located on the 26th floor offers a variety of treatments and massages. But it comes with a high price tag as you can expect. Probably 4 times more than e regular massage from a classic massage place on the street. But the treatments and interior are superb. Well worth it!
CONCLUSION:
We only have four words to say to you: BOOK YOUR STAY HERE! It's a unique and luxurious experience that is hard to find at many hotels and cities.
To be able to combine a big city experience with sun bathing and swimming is the perfect way to experience a city. During our 2 day stay at 137 Pillars we only left the hotel for 3 hours. That's how nice it was here.
Address: 59/1 Soi Sukhumvit 39, Khlong Toei Nuea, Khet Watthana, Krung Thep Maha Nakhon 10110
• 2 amazing rooftop pools
• Rooftop bar and restaurant
• Skyline views
• Top notch service
• Luxurious and spacious rooms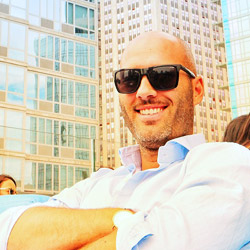 Written by:
Hans Ebenman
- Co-founder, CEO & rooftop expert at The Rooftop Guide