Guest blogger visits Bar Terrazza Danieli at the luxurious Hotel Danilie in Venice
Review
Guest blogger visits Bar Terrazza Danieli at the luxurious Hotel Danilie in Venice
Cigars, Prosecco and lovely views
Published: July 21, 2017
An afternoon with cigars, Prosecco and lovely views over beautiful Venice
Me and my fiancée Nathalie, went to Venice by boat from Pula, Croatia. It took us about three hours. After strolling in Venice for a few hours, we decided to sit down at the perhaps most enchanting hotel in Venice, Hotel Danieli.
A five-star hotel a right next to San Marco, so the position of this Venice rooftop is as good as it can get. We will come to the view later, but first you will get a feeling about the surroundings and the atmosphere once you enter the lobby. A great place among the rooftop bars Venice has to offer.
The luxury and the awakening already begin when walking through the door. The staff here - like all Italians - are dressed in great fashion and with a good fit on costumes and dresses. At Hotel Danieli they had coats and the guy who welcomed us had a black elegant rock, despite 30 degrees outside the door.
The view of the lobby, for example, can be seen in the quite bad movie, "The Tourist" when Angelina Jolie and Johnny Depp checks in at the hotel. Beautiful flowers arranged in indoor balconies and a sense of history and romance. Now to the Rooftop itself.
We arrived at 2.45 PM, as our boat was going back to Croatia at 17.15. We just had a pizza slice and were ready for some Prosecco and a good cigar. This day I choose my personal favorite cigar, Toscano Antico, which I snuggled in half so it became a "Toscanello".
Usually the roof opens at 3:00 PM, but we were allowed to enter a bit earlier which was a nice gesture and start to the visit. When we got up, all the focus was on us, as we were early and the only ones up here. If you like it calm and harmonious we can recommend you to come here between 3:00 PM – 6:00 PM.
We obviously took the place out on the balcony. The view was almost surreal. My favorite city in the world is Rome, and I compare everything with Rome. The feeling at Danieli's was at the same level for me. Where everything feels like a postcard and there are no "must does".
If you want a luxury afternoon and a nice memory from your visit in Venice, you should definitely visit Hotel Danieli. Prices cannot be seen in the menu, but as with many other rooftops located at luxurious hotels, the prices are quite high.
A glass of Prosecco from around €20. They didn't charge anything extra for the snacks served to the drinks nor did they add the extra service fee, that is very common around Piazza San Marco. So, do not be afraid to eat the snacks on the table.
The only thing that did not come up to the same standard as everything else here, was a more accurate table service. Everything was super good right up to the table, and they did not really do anything wrong when we sat there. But with "more accurate" I mean I wanted more tips on food, info about the Prosecco, asking us if we wanted anything more to eat or drink and things like that. Especially now that they had the time and opportunity to make this amazing visit even more amazing and personal.
Now I work in Sweden's best service company, so I'm a bit picky when it comes to service and I know that the smallest efforts can make a big difference.
For all of you that thinks it´s nice when the waiters don´t disturb too much, then this rooftop will probably be one of the best in Italy when sipping on a beer/Prosecco, or, as in my case, a couple of puffs of the Toscanello cigar.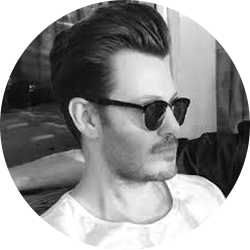 Written by:
Bato Antunovic, for The Rooftop Guide