Full evening at the latest addition to Stockholm's rooftop scene – Orangeriet´s new Prosecco bar
Full evening at the latest addition to Stockholm's rooftop scene – Orangeriet´s new Prosecco bar
Published: July 31, 2017
A superb evening filled with Prosecco, nice food, lovely views and good buzz with the staff:
At last, the doors (read the staircase) opened up for the latest rooftop bar in Stockholm. Orangeriet´s new roof terrace had premiere a few weeks ago and has been a success since then. We were not late to jump on the train to have a whole night here and try everything that the roof terrace had to offer.
Downstairs at the entrance we were met with open arms by Alberto Canas who showed us to our table where we sat down and took a beer while Alberto told us a little about the Prosecco bar and its concept.
Orangeriet is run by PDF Brasserie Group, which has many restaurants around Stockholm. Alberto was a really nice guy with lots of experience from nightclubs and bars around Sweden.
After the beer, it was time to try some Prosecco and food. We decided to order some different dishes and two bottles of Prosecco with strawberries. The bubbles were served really nicely in a built-in "icebox" in the middle of the table where both bottles, glasses and strawberries lay in the ice.
Prosecco with a good view is always a good idea, and here we sat for a few minutes and enjoyed the views of Norr Mälarstrand, Södermalm and parts of the Old Town and Kungsholmen, while we looked at the food menu.
Finally, we decided to order two plates of charcuterie pieces, some pizzettes (small flat bread pizzas) and scallops. The charcuterie fits perfectly with the Prosecco and is a great way to eat something good that everyone around the table shares. The mini pizzas were also very good and, lastly, we ate some scallops served in a large seashell.
All food tasted very good and felt suitable to the Prosecco.
We really liked this rooftop bar and we will for sure be back here in the future. The terrace is very popular on the sunny days, so be sure to come here in good time to secure a seat. Sunsets are magical from here.
Also check out the other rooftop bars in Stockholm here.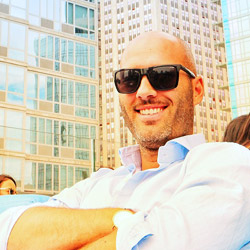 Written by:
Hans Ebenman
- Co-founder, CEO & rooftop expert at The Rooftop Guide