Pool party with Moët Chandon and Out of office at Clarion Sign in Stockholm
Published: June 12, 2017
A day filled with swimming, Champagne, sunshine and beautiful views over central Stockholm:
For the first time ever, Clarion Sign chose to organize a pool party on its roof terrace in central Stockholm. The luxury of being able to have a rooftop pool in Sweden is not common, so this was really a long awaited one.
The theme of the party was the classic "white party", which is often seen at beach clubs around the world, where the climate is a little warmer than in Sweden. Moët Chandon had knocked up a bar on the terrace and Out of Office stood for a live DJ who played some nice music throughout the afternoon.
As the weather was brilliant from early morning, people stood waiting at the entrance even before the party had started. At 14:00 the gates opened and the terrace was filled with people almost immediately. When we got there at 14:20 the terrace was full and the atmosphere was on top.
Because we arrived a little later than many, there were unfortunately no seats left, so we found some seats by the pool with backrest against the glass wall surrounding the pool area. A good spot and nice with proximity to the rooftop pool.
As usual, the pool was heated to 36 degrees, which was very nice. Despite the warm and sunny weather, it was still nice with warmth in the water, which meant that you could stay in for a long time without feeling too cold.
It was a fairly mixed clientele of people up here. Guys and girls in the ages between 25-40 approximately. People toasted in Champagne to the tones of nice lounge music and the views of Stockholm's rooftops.
Moët had their own bar on the terrace where Champagne was served. For those who wanted to drink something else, you could order it in the spa bar at regular prices. It was also possible to order simple bar food for the hungry ones.
The pool party at Clarion Sign was a very good and successful initiative, which we hope to see more of this summer. For those who want to know more about rooftops in the Swedish capital, you will find it under the page Stockholm rooftop bars.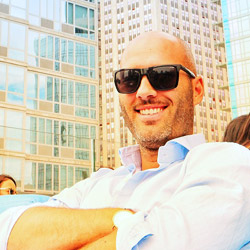 Written by:
Hans Ebenman
- Co-founder, CEO & rooftop expert at The Rooftop Guide