Opening day of The Winery Hotels rooftop bar!
Published: June 9, 2016
Wine, canapées, sun and a really nice roof terrace at The Winery Hotel in Stockholm:
The Winery Hotel is a new hotel in the district Solna in Stockholm with a strong focus on fine wines and Italy. The Rooftop Guide have had a very good contact with them throughout the spring and especially with Moa Söder who was really nice and helpful. It was also Moa who invited us to a two-hour preview of the opening of their rooftop.
Big and modern terrace.
Once there, we were met by a large and lovely terrace with an almost 360-degree view of the entire Solna and Frösunda. The rooftop bar is also equipped with a heated swimming pool (which initially is available only for hotel guests), comfy chairs and a large variety of other seating.
Really nice swimming pool.
The swimming pool ffom the other direction.
As I drove the motorbike here, we tried large parts of their non-alcoholic options. Both rosé, white wine and beer. The wine was quite sweet, but still very good if I compare with previous non-alcoholic wines I tasted.
To the drink they served some delicious canapés and Italian delicacies in form of 36 months old Parmigiano Reggiano and some very tasty Prosciutto.
1, 2, 3 Fanta and Rosé.
Tasty canapées.
Nice bar.
Me and Rille quickly found our favorite places in two really comfy sunbathers where we sat down with the wine and canapes. The sun warmed nice and had it not been for all the guests and the DJ's nice tones, we would probably dozed off for a while. Harmony!
Perfect seats.
Rille enjoying life.
View at north.
After all drinks and food, we took a chat with Moa who work here. She told us a little about their concept and we told some her som stuff about The Rooftop Guide and what will happen this year and so on.
The Winery Hotel will definitely be a force to be reckoned with among rooftop bars in Stockholm. Large terrace, nice swimming pool, a nearly 360-degree views, good selection of wine and a lovely staff. The most one can wish for from a good rooftop bar.
Having it nice in the sun.
Mmm, wine!.
We will definitely come here more often. Especially the sunny days. A perfect place to come and drink wine at if you're going to a concert or football match at the Friends Arena, when the roof is only a few hundred meters from the stadium.
Here's some more info about the rooftop bar at The Winery Hotel.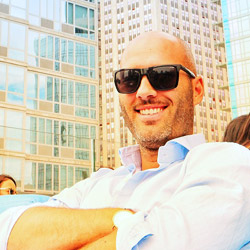 Written by:
Hans Ebenman
- Co-founder, CEO & rooftop expert at The Rooftop Guide