Ohla Barcelona - one of the most harmonious rooftop-bars in Barcelona
Published: July 25, 2016
Panorama view over the roof terrace.
The roof terrace at the luxury hotel Ohla Barcelona:
Ohla Boutique have two 5-star luxury hotels in the heart of Barcelona. Ohla Barcelona and Ohla Eixample. After a long and good conversation with Blanca Garcia who works at the Department of Communications at the Ohla Boutique Hotels, we had decided a lunch meeting on the roof terrace at Ohla Barcelona at 12:30 PM.
Selfie with a view.
Up on the terrace, I was welcomed by Blanca and a really nice bartender. We talked a little fast about their rooftop, The Rooftop Guide and about rooftop bars in Barcelona before I was shown to my cabana at the corner of the terrace. Because the high amount of drinks this trip, I contented myself with a freshly squeezed orange juice.
I settled down on the sofa and looked out over the city from the moment I got my juices. The heat was palpable and most guests here up cooled themselves of in the infinity pool or sat in the shade and enjoyed the views. I swept my juice in a couple of seconds and ordered two more. The heat made me really thirsty and the juice was fantastic.
Nice cabana with a 360-degree view.
Tasty orange juice.
Cabana.
Here I sat and enjoyed the surroundings and the good drinks. Unfortunately, I had forgotten my swimming shorts which proved to be a huge blunder. My friends chose to stay at the beach to cool off in the sea.
After about 45 minutes on the terrace with a lot of photo shooting and juice-drinking I had to go to the beach to swim.
Ohla Barcelona was an amazing rooftop bar with everything you could wish for. Luxurious swimming pool, good bar, magnificent views, friendly staff and many comfortable seats. I can really recommend people who like a bit calmer and more comfortable atmosphere to go here.
The terrace is open to the public while the pool may only be used by hotel guests.
The infinity pool.
Comfy sun loungers.
Lots of seatings at the terrace.
Unfortunately, we didn't manage to visit Ohla Eixample during our stay here. Eixample is a newly opened hotel with a rooftop bar similar to Ohla Barcelona. Here you can see some pictures of how it looks.
The infinitypool at Ohla Eixample.
Nice sun loungers at Ohla Eixample.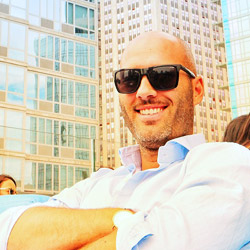 Written by:
Hans Ebenman
- Co-founder, CEO & rooftop expert at The Rooftop Guide