Review
Pure Sky Lounge Dubai
Ocean views, great atmosphere and a very sweet cocktail
Published: February 17, 2017
360 view of the terrace
Cucumber Moscow Mule, Cuba Gratis and one Salted Caramel Martini
We had a table at 8PM on PURE Sky Lounge at Hilton and thought that we arrived in perfect time a couple of minutes before 8. We went inside and took the elevator to the top floor, but there seemed to be a whole lot of hotel rooms and not a sign to any rooftop bar. A bit worrying...
Down to the reception and they pointed to the elevators at the other end of the building. Went over there and asked again, got pointed to a third direction. When we didn't find any elevators there at all we had to ask again and now we got the answer that we were at the wrong Hilton building. Not too much of a problem though since the right one was just across the street.
Up on the 35th floor we got a table in the corner with great views over the ocean and the Palm Island. Since it was quite late it was already dark and we can imagine these views being even better at day or with a sunset. Some say that you will get the best sunset from PURE Sky Lounge, when speaking of the best roof bars in Dubai.
View over the ocean and Palm Island
We started out with some cocktails from the really nice cocktail list. Two signature ones (Cucumber Moscow Mule and Cuba Gratis) and one from the Candy Shop (Salted Caramel Martini).
The signature ones were really nice but the Salted Caramel Martini was too sweet for us, really tasted like candy. But all drinks were very well made and with a nice and cool mix too choose from. A nice touch was also that we got some popcorns while waiting for the food.
Moscow Mule with a shot of bubbles and some popcorn
Since we were not extremely hungry we ordered the PURE Sharing Board, which included Chicken in sugar cane, Golden vegetable spring roll, Prawn & Portobello mushroom tempura and Wagyu vs. Chicken burger & chips. Since we like our burgers we made sure to order in some extra of these.
The food was nice, not spectacular but perfect as bites to the drinks.
The staff was really nice and took really good care of us and we got a chat with the bar manager who also showed us the second terrace, which is on the other side of the building. Quite similar to the one we were at but a bit larger and more for restaurant guests.
The terrace is equipped with some really nice lounge sofas and there was a DJ keeping the atmosphere on top. At the bar inside they also have an impressive collection of Absolut Vodka bottles.
If you get the chance we would recommend a visit to PURE during the day or at sunset just to get the most of the ocean views. But otherwise it's also a great spot for some nice cocktails in a soft and enjoyable atmosphere.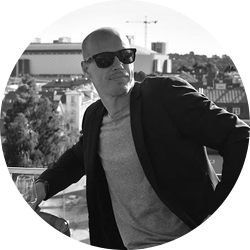 Written by:
Rikard Fredricson
- Co-founder, Creative & rooftop expert at The Rooftop Guide