New Years party on a rooftop bar in Melbourne!
Published: January 4, 2016
Hi everybody!
My name is Hans Ebenman and I'm one of the founders of The Rooftop Guide. Right now I'm on a rooftop bar trip to Melbourne – Sydney – Singapore. The first blogpost will be about Melbourne and the New Years party we had there.
Classic rooftop selfie at Transit Rooftop Bar.
Transit Rooftop Bar:
We had been invited by Floriane and Dave from Transit Rooftop Bar to attend their New Years party in Melbourne. The party included entrance, drinks and canapes the whole night with a fantastic party atmosphere. We begun with a nice Espresso Martini on the roof terrace before the party got started.
Tasty Espresso Martini.
Perfect rooftop view over Melbournes scyscarpers.
Around 11:30 PM we corked up some bootles of Champagne to get ready for the begining of the new year. We had some really nice cocktails, wine and Champagne. Regarding the food the staff served some delicious canapes – all with a very good taste.
Some Champagne before the countdown…
Melbourne is one of the first big cities in the world to celebrate New Years. And there's always a lot of breathtaking fireworks for all the spectaters. This time the fireworks costed more than 10 million Australian dollars. So you can imagen that the expectations where quite high :). From the Transit Rooftop Bar you get one of Melbournes best views and this is the best spot to see all the fireworks and scyscrapers that surrounds the city.
More bubbles before the countdown.
Views of the fireworks to the south.
Views of the fireworks to the north.
We had an amazing evening at Transit Rooftop Bar. The service, party feeling, views and drinks was of highest quality through out the whole night. If you want an complete New Years party in Australia, this is a perfect spot to visit.
Fore more rooftop bars in Melbourne, check out the next blogpost later this week and also see the best rooftop bars in Melbourneat our site.
Happy New Year!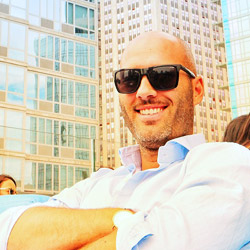 Written by:
Hans Ebenman
- Co-founder, CEO & rooftop expert at The Rooftop Guide