A whole day by the beautiful rooftop pool at Hotel Wilshire
Review
A whole day by the beautiful rooftop pool at Hotel Wilshire
Lovely views and yummy lunch with mimosas
Published: July 18, 2017
A day filled with lovely views, a luxurious rooftop pool and yummy lunch with mimosas
There aren't many things that can beat spending a whole afternoon at a rooftop swimming pool with wonderful views and a wide range och nice cocktails and food. We had one of those kinds of days when we visited the terrace at Hotel Wilshire in LA. This city is teeming with lovely Los Angeles rooftop bars and LA rooftop pools.
Roof on Wilshire LA is a fantastic roof terrace perched on top of this trendy and popular hotel near Beverly Hills.
We arrived here just before noon to get a couple of warm afternoon hours and lunch by the rooftop pool. We had reserved a cabana with view over Hollywood Hills and the surrounding areas where we could enjoy food, drinks, sun bathing and relaxing at the same time.
The terrace is equipped with a fancy swimming pool, three cabanas, three open lounge areas with sofas, sun loungers, dinner tables and a big bar under a roof.
As usual with rooftop pools, there's only the guests of the hotel that can swim there. So, it's always very nice and calm in the pool.
Otherwise the terrace was filled with people eating lunch and later on with party goers that had mimosas or cocktails before heading out in the LA night. It was a Saturday, which meant that feeling was very nice and party friendly the whole day/evening.
We noticed directly that almost everybody ordered the carafe with mimosa (Champagne and orange juice) and we had to try it out to. We also tried the burger, the salad and club sandwich. Everything tasted delicious.
The burger was super juicy and the mimosa refreshing and nice. A perfect setting for a nice rooftop lunch. Comfy cabana, good food and tasty drinks.
We relaxed at Roof on Wilshire the entire afternoon, and it was some fantastic spent hours. To be able to eat, drink and swim with a beautiful Hollywood view is something that can't go wrong. We loved this place and can recommend it to everyone who lives or will travel to Los Angeles
We were received by the Wilshire crew in a very good way and the service was spot on. Attentive, fast and polite. Just as it should be. Big thanks to the general manager, Luis Marquez.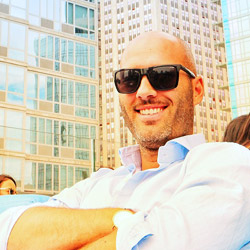 Written by:
Hans Ebenman
- Co-founder, CEO & rooftop expert at The Rooftop Guide