Midsummer lunch-party at LH Rooftop Chicago
Review
Midsummer lunch-party at LH Rooftop Chicago
Great atmosphere and one of the best views in town
Published: July 20, 2017
One of the best views in Chicago, sunshine all around, along with live music, great atmosphere and drinks as The Rooftop Guide celebrated Midsummer on London House Rooftop in Chicago.
Friday June 23rd was the date for the annual midsummer celebration in Sweden, that one day per year when Swedes go real crazy. A day that usually is spent with friends and family in someones garden or summer cabin and that starts quite early with special food and drinks and then continues with games, dance and more food and more drinks long into the night.
But since we were in Chicago we had to find an alternative way of celebrating, and in retrospect we really found the perfect spot in London House Rooftop among the rooftops in Chicago.
In true midsummer spirit we had reservation at the rooftop already at 1pm. But we were definitely not the first ones to arrive, the terrace was already crowded and the atmosphere really on top. Probably part because of the fantastic weather and part the 25/20 celebration that was taking place for 670 The Score and Tito's Handmade Vodka.
The rooftop consists of three floors. You arrive with the elevator on LH 21, which is a real nice indoor bar. If you take the stairs up you get to LH 22 which is the terrace. And if you continue a bit further up the stairs you reach the Cupola, a fantastic little area that you have to book for a private dinner or event.
We got a table right in the middle of the quite narrow terrace, facing the open bar in one direction and in the other amazing views over the Chicago skyline and straight down to the Chicago River.
In true celebration mode we started off with sharing a bottle of champagne, so enjoyable soaking in the sun, cheering with friends, watching the view and the people and listening to some live music from the acoustic band that was playing. In all honesty, we had to stand up and take a walk around from time to time not to…how do we put this nicely. Not to let too much heat gather in our lower back/upper legs region.
It was a really warm day! But we did not mind this at all, perfect to have a look around the terrace and hang some on the railing and get a better look down towards the river.
Can't live on just sun and champagne, so it was time for us to order some food. The midsummer lunch usually consists of a kind of sharing plate with potato, herring, salad and pie. We tried to simulate this best we could and ordered more snack like plates to share (there was more meaty option like burgers available).
We went for potato salad, chicken wings, and some tartine flights: Nduja cheese bread, goat cheese/Ham and swiss cheese hand pie/Lobster roll. And of course, the main ingredient on a midsummer lunch, the Snaps (shot), which in this case was a glass of vodka.
Tartine flights
Vodka-toast
The food was nicely presented and tasted good, we really liked the tartine flights but the potato salad could have used some more moist. This was however a very minor bump in what was a fantastic day.
We stayed on the rooftop for about five hours, mostly drinking cold beer which tasted great in the heat. We also tried one cocktail from the special Tito's Handmade Vodka menu.
And during all this time we had fantastic service from our waiters, making sure to check in on us from time to time and also keeping our water glasses full which was highly appreciated.
And the atmosphere up on LH 22 was overall really relaxed, we got some nice company at our table and in some ways it felt just like being at a midsummer party in a friends back yard. A back yard with an extrodinary view J Had it not been for other reservations made later that evening we probably would have stayed long into the night.
As you probably understand, we highly recommend a visit to London House and their rooftop if you are in Chicago!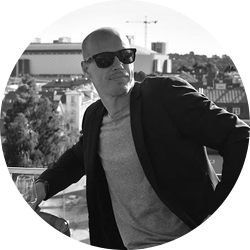 Written by:
Rikard Fredricson
- Co-founder, Creative & rooftop expert at The Rooftop Guide