Luxury roof terraces in Milan!
Published: July 5, 2016
Ceresio 7, one of many awesome rooftops in Milan
First stop on our three week-long rooftop-tour starts in Milan, where we will review the best rooftop bars Milan has to offer.
Since we only stay here for one night we had to select the three roof terraces which we thought was best. And it would appear that we made some really good choices.
Rooftop No. 1 in Milan: Ceresio 7
A combined restaurant and rooftop bar/pool. Situated on the fourth floor just outside the most central parts of Milan you'll find the roof terrace. We chose to come here early in the afternoon, around 3 PM because it usually is a little bit quieter with people then. And considering the popularity of Ceresio 7, our choice proved to be a good one.
We got some nice seating's in the shade (it was crazy hot in the sun). Here we ordered one Aperol Spritz each, one espresso and one cappuccino. Super nice drinks to an equally awesome view! The atmosphere was very nice with tunes of lounge music in the background and views of Milan's skyline and the luxurious rooftop pool located in the middle of the terrace.
A rooftop bar we would highly recommend if you like chilled atmosphere in a luxurious setting.
The rooftop pool at Ceresio 7
The pool and the Aperol, great combo
Selfie with a great view!
Situated on the 5-star hotel Melia ME in the vicinity of Milan's train station. The entrance is on the side of the building with a private elevator directly up to the rooftop bar.
Once up, we got to choose between various lounge furniture to chill in. Our selection ended up to be a table with comfortable chairs in the shade. Regarding beverages our choice fell on coffee and beer.
The rooftop terrace was filled with people quite quickly and many tables were already reserved - even though it was a Monday. Quick service, luxurious decor and great views. Simply a very good rooftop bar in Milan.
View from Radio Rooftop
Ida, nice chair and coffe and beers
View from Radio Rooftop
Chilling at the rooftop
Rooftop No. 3 in Milan: The Westin Palace
Since we only stayed one night in Milan, we chose a to go for a nice hotel near the train station. The Westin Palace is a 5-star hotel with a really nice rooftop bar.
Located on the 8th floor with magnificent views of Milan's rooftops. Unfortunately, the bar had not opened when we were here, so we had to content ourselves with some great photos instead. The roof terrace is quite large, with a lot of large and comfortable lounge furniture to hang in.
The Westin Palace
Nice lounge furniture
This was everything from Milan for this time. Now we're heading to Nice were we look forward to 3 days with sun, beaches, rooftops, food and soccer.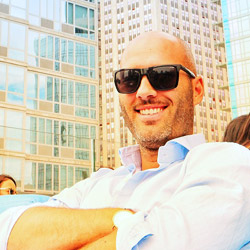 Written by:
Hans Ebenman
- Co-founder, CEO & rooftop expert at The Rooftop Guide