Luxury rooms and stunning rooftop pool at The Face Suites in Kuala Lumpur
Review
Luxury rooms and stunning rooftop pool at The Face Suites in Kuala Lumpur
Amazing swims
Published: December 25, 2016
Sunrise at the rooftop pool
It was time to try some rooftops in Kuala Lumpur. As with many other big Asian cities, there is a very good choice of luxurious and cool KL rooftop bars and rooftop pools in Kuala Lumpur.
Our first three nights we decided to spend at the 5-star apartment hotel The Face Suites. Most thanks to their fabulous rooftop pool, but also for the affordable price and the large and luxurious rooms.
Here we housed on 97kvm for under 100$/night. Super price and really good room with all that implies.
View from the bed room
We arrived after midnight, so the only thing we did the first night was checking out the room and then directly to bed. The alarm was set at 7:00 AM to take a morning swim at sunrise in the rooftop pool. And what a morning it was.
Calm wind and sun over the city skyline with the Petronas Twin Towers as a powerful background. The two-hour morning swim was one of the best we have ever had, together with the one at Marina Bay Sands.
The pool is open from early morning to late evening, so it was a routine with both morning and evening swims for us. Fine start and end of each day.
Apart from the amazing rooftop pool, the rooms were very good too. We stayed at 97kvm with a kitchen, 2 bathrooms, large living room and a large bedroom with the same view as from the rooftop pool.
Otherwise, it should be added that they are building a new rooftop bar. In 2017, The Face Suites will able to boast an impressive rooftop restaurant and bar with an absolutely breathtaking view of the central parts of Kuala Lumpur.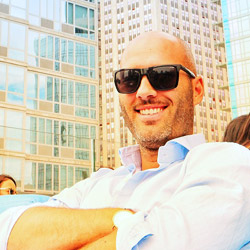 Written by:
Hans Ebenman
- Co-founder, CEO & rooftop expert at The Rooftop Guide