Luxurious rooftop pool and premium views over the Kuala Lumpur skyline
Review
Luxurious rooftop pool and premium views over the Kuala Lumpur skyline
Traders Hotel in KL offers both
Published: January 1, 2017
A rooftop perfect for both morning, midday and evening activities. How about workout, swimming, sauna, relaxing, drinking, eating and partying:
Upon arrival at the 5-star hotel Traders Hotel in Kuala Lumpur, we got our room upgraded to the highest floor with a superb view over the Petronas Twin Towers. A very nice gesture from the check-in crew.
They also had prepared some delicious cakes waiting for us at the room. I very nice start to our 2 days stay here.
Well up in the room we're met by fantastic views and a very nice room. We're quite tired after lots of traveling, so we decided to order some room service for lunch. They had a quite big menu with lots of nice stuff to choose from.
Nice view from the room
Yummie cakes
Room service with a view.
After the lunch, we took a nap before our scheduled meeting at the rooftop bar at 6:00 PM. We had booked one of the lounge areas right by the windows, to get as good view as possible.
This rooftop bar in only opened aired right over the swimming pool, which was lucky for us, because it rained the whole evening.
Nice seatings at the windows.
We ordered two rounds of their signature cocktails while gazing out over the Kuala Lumpur skyline. At 7:00 PM the rooftop pool closed and a party atmosphere started to surround the whole rooftop.
They played a lot of party tunes from classic Swedish artists as Dr Alban, ABBA and Björn Skifs, which both surprised us and made us happy because of our Swedish roots.
The next day we decided to take a morning swim in one of the best rooftop pools Kuala Lumpur has to offer. A nice tradition during our travels.
We went up to the spa and swimming pool at 8:00 AM and we were almost by our self's up here. We swam for about 20 minutes before heading up to the rooftop sauna. A perfect start of the day.
Morning swim.
Relaxing after the swim.
We liked everything about this rooftop. Maybe it could have been more of an "outdoor felling" to it, but it didn't bother us that much. The view was amazing and so was the rooftop pool and atmosphere.
Make sure to book table in advance if you'd like to sit right next to the windows. And if you want to use the swimming pool you must be a guest at the hotel. Well worth every penny.
The Petronas Twin Towers close to the roof terrace.
Here's some more info about SkyBar at Traders and how to book a room, table and everything else you need to know.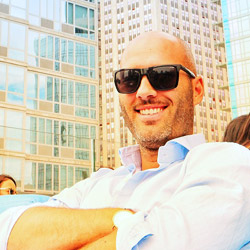 Written by:
Hans Ebenman
- Co-founder, CEO & rooftop expert at The Rooftop Guide