Luxurious rooftop lunch at La Terrasse Cuisine & Lounge at the hotel Sofitel Villa Borghese
Review
Recommended to anyone
Published: March 30, 2016
La Terrasse Cuisine & Lounge Sofitel Villa Borghese.
Before our trip to Rome, we had booked the rooftop lunch and a meeting with the crew at the restaurant. The rooftop bar is located near the Spanish Steps, with views across Rome and with the sun straight onto the terrace. At 2:00 PM, we were received down in the lobby by Simone.
Grande Simone!
The rooftop lunch:
They had reserved one of the best tables (regarding the view) for us. We began with a glass of Prosecco each, while we enjoyed the views before us.
The entire ala carte menu was available even at lunch, but we decided to have the "rooftop lunch offer" that content first and main course. Here you could choose among different kinds of bruschetta as an appetizer and between all pastes as main course. Eventually, it became two different bruschetta, buccatini Amatriciana (Roman specialty) and a pea/mushroom risotto.
To this we had a better bottle of red wine from a local area.
Prosecco and snacks before the food.
Bruschetta with mozzarella.
Classic Bruschetta. Mumma!
Really nice risotto.
Buccatini Amatriciana. Fantastic taste!
The food and wine held as high class as the view from the terrace. All in all a very good Roman rooftop restaurant. Everything was very good.
Simone stopped with us several times and told us about Rome, the food and all the famous monuments and buildings that could be seen from the rooftop bar. We also spoked about The Rooftop Guide and the work we do.
Despite our full stomachs, he convinced us to test a Roman specialty dessert - which I unfortunately forgot the name of. Bab bab or something like that, if I remember correctly. It was in any case a cake soaked in liqueur with fresh berries and sorbet.
The dessert we forgot the name of.
The crew that made the lunch into something special.
A double espresso later, we were totally satisfied and full. A fantastic lunch with virtually every feature you can think of in terms of a nice lunch in the sun. The service was outstanding from the crew who served us with Simone in the lead.
I can recommend this to anyone that are going to Rome who likes food, views and quality. For more info, check out their website here. Next blog post will be bout the rooftop bars we visited in Florens the same weekend. Stay tuned!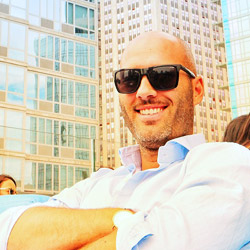 Written by:
Hans Ebenman
- Co-founder, CEO & rooftop expert at The Rooftop Guide