Lunch at the rooftop bar SE·STO on Arno in Florence
Review
Lunch at the rooftop bar SE·STO on Arno in Florence
"One of the best lunches ever"
Published: April 8, 2016
Our table with a lovely view over th river Arno.
One of the best lunches ever - at one of the best rooftop restaurants in Florence. 4 hours in the sun with 3-course lunch consisting of lots of delicious Italian dishes. Drinks to that - lots of Prosecco. As you can read, this approach can't go wrong.
When we got up on the terrace, they had reserved a table in the corner overlooking the Arno river to one side and the city on the other. The clock had just turned 2:00 PM and we were really thirsty, so we ordered a glass of Prosecco each and some mineral water. To the freshly baked bread with an amazing olive oil.
Prosecco with a view
The view at the other direction.
And at the third direction.
The service here was top notch. It reminded us a lot of Marina Bay Sands where the staff looked after all the customers very well, at all times.
We ate tomatoes and mozzarella for an appetizer, pasta carbonara and pasta pomodoro (tomato sauce) as the main course and tiramisu and sorbet for dessert. We drank 2 bottles of prosecco during the lunch. Everything tasted super good. 10 out of 10 points for the food. The service receives the same rating.
Sunshine, food and Prosecco - don't need anything else.
Lovely mozzarella and tomato.
Pasta pomodoro.
Pasta carbonara.
Tiramisu. Yummie!
The fantastic olive oil.
Here we sat about 3-4 hours and just enjoyed everything. The weather was glorious and the Prosecco poured down like water in our throats in the heat. It was with a nice drunk feeling we left the rooftop bar to take us to the next terrace.
The last sip of Prosecco before we moved on.
The crew that served us during this amazing lunch.
An absolutely fantastic lunch we probably will never forget. Many thanks for the Westin Excelsior and the gang who served us! We will definitely come back in our next visit to Florence.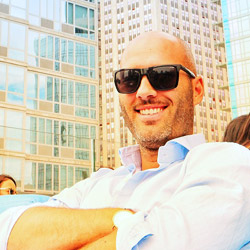 Written by:
Hans Ebenman
- Co-founder, CEO & rooftop expert at The Rooftop Guide