Lunch at Paolo Roberto's rooftop restaurant Pane Fresco in Stockholm
Review
Lunch at Paolo Roberto's rooftop restaurant Pane Fresco in Stockholm
Pizza with a view
Published: May 18, 2016
Pizza with a view
Finally the rooftop season has started in Sweden again. Some have already opened and some premiers now later in May. One of the roof terraces already opened is Pane Fresco, which is located on the roof of Åhléns in Stockholm City.
Pane Fresco is an authentic Italian restaurant run by the Swedish celebrity and entrepreneur Paolo Roberto. The restaurant has barely been open a year, but has already established itself as one of the city's best Italians - and we understand why.
Rille happy with the view and food.
After a little chat with Paolo on Instagram he invited us to lunch on the terrace. The best corner table was reserved, the sun was shining and it was 25 degrees in the air. Perfect condotions for a really nice lunch.
Rille took the dish of the day (pasta pomodoro) and I ordered a Pizza Diavola. The food tasted as good as it looked. Fantastic! Authentic flavors of Italy. My pizza was amazing. One of the better pizzas I ever had in Sweden actually.
Lovely pizza diavola!
Pasta Pomodoro
For dessert Paolo made us a Neapolitan specialty, "caffe fugado" - that means drowning in coffee. Just as it sounds, it was a glass ball in a cup of freshly brewed coffee. A novelty for both me and Rille. Actually very good.
Espresso
Yummie!
Caffe Fugado.
From the roof terrace you get a lovely view over the central parts of Stockholm, with the Sergel Square as the main attraction. We could even see across to another of the Stockholm rooftop bars at Kulturhuset.
After the meal Paolo and his brother Ian came to our table and talked with us for about 15-20 minutes. We talked about everything from rooftop bars, boxing, Naples, Italian food and football. It was very interesting to hear about their stories from Naples and the details of how to make an authentic Neapolitan pizza.
Me, Rikard, Ian and Paolo.
The crew.
Here we talk about football, pizza and sports comentators.
Finally, Paolo showed us around in the restaurant and we got to see when Pane Fresco Neapolitan pizza chef made a pizza. A lot of details to remember here. All in all a fantastic lunch in all respects. We'll for sure be back very soon.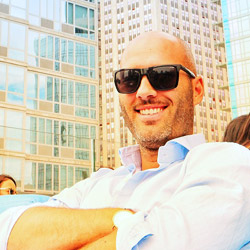 Written by:
Hans Ebenman
- Co-founder, CEO & rooftop expert at The Rooftop Guide