Lunch with a view over Pantheon at the luxurious rooftop bar at Grand Hotel Minerve
Review
Lunch with a view over Pantheon at the luxurious rooftop bar at Grand Hotel Minerve
Pasta, prosecco and historical city views
Published: June 7, 2017
A lunch filled with pasta, prosecco and historical city views over the eternal city Rome
At our first day in Rome during our rooftop trip to this fantastic city, we decided to have lunch at the luxurious and cozy rooftop, perched on the 8th floor of Grand Hotel Minerve, near Pantheon. The table was set for a late lunch at 14:30.
When entering the terrace, you get a nice feeling of being on a roof garden among the rooftops of central Rome. We had a table in the corner of the terrace, with a wonderful view over the historical building – Pantheon.
A classic thing to do when in Italy is to drink Prosecco before dinner. So, we ordered a bottle that we enjoyed to some snacks.
For lunch, we all had some pasta. We decided to try both the Spaghetti Pomodoro (tomato sauce), a mussel pasta and Cacio e Pepe, which is a Roman classic consisting only in spaghetti, pecorino cheese and black pepper. A fantastic dish if made with the right ingrediencies.
And the kitchen really nailed all three pastas. They were made al dente and with a lovely taste and texture. I kept drinking Prosecco through the whole lunch, but the other ones order some Italian beers to the food.
Spaghetti Pomodora
Cacio e Pepe
Mussel pasta
Prosecco
The food was superb and the sun kept shining on us throughout the whole time. And the perfect way the end this lunch was with some coffee and beers.
Double espressos and Italian beers came in and we just sat here and enjoyed the atmosphere, the lovely view and sun. A perfect start to our rooftop trip!
Minerva Roof Garden at Grand Hotel Minerve is a fantastic place on the Roman rooftop scene. And a nice place for both lunch or afternoon/evening apertivos. During hectic weekends, it can be a good idea to book your table in advance.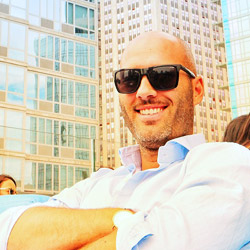 Written by:
Hans Ebenman
- Co-founder, CEO & rooftop expert at The Rooftop Guide