One of the best rooftop bars in Madrid and a fantastic lunch at Tartan Roof
Review
One of the best rooftop bars in Madrid and a fantastic lunch at Tartan Roof
Sweeping views and a yummy lunch
Published: May 4, 2017
Sweeping views and a yummy lunch at one of the best and biggest roof terraces in Madrid:
The plan was to visit Tartan Roof for some lunch relaxation with a cocktail and then head over to new places. But well up on the roof, we couldn't get enough and stayed here for 4 hours.
Tartan Roof is located at Azotea del Circulo at the main road, Gran Via, that runs through the central parts of the city. To enter the terrace, you must pay an entrance fee of 4 EURO down in the lobby, before heading up in the elevator. In our eyes, Tarta Roof is probably the best rooftop bar in Madrid.
Well up on the roof, you'll be stunned over the amazing view over the rooftops and surroundings. We came here at 12:30 PM and got hold of two nice lounge sofas/beds where we spent two hours just lying and relaxing while gasping out over the city.
Given the time of the day, we decided to order some sangria and water. The sangria was very good and refreshing. A perfect way to start of the day with.
After the two first hours, we got quite hungry and decided to have the lunch at the rooftop restaurant. It would turn out to be a very good choice. The waitresses found a really nice spot for us in the middle of the restaurant with panoramic views and in the shadow. Perfect, because the temperature was heading towards 30 degrees.
What better way to start a lunch in the heat, than with some cold Cava! We ordered three glasses of Cava, three beers and 7-9 different tapas dishes. Everything made in a very good way. Nothing beats a nice lunch in the sun with some cava and premium city views!
Tartan Roof was a superb rooftop bar in Madrid and we truly loved this place. The perfect place for a lunch in Madrid.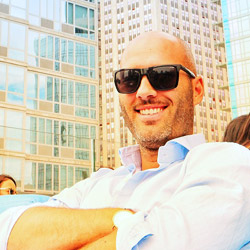 Written by:
Hans Ebenman
- Co-founder, CEO & rooftop expert at The Rooftop Guide