Premium steaks, delicious red wine and Aperol Spritz, to one of Hong Kong's best views
Review
Premium steaks, delicious red wine and Aperol Spritz, to one of Hong Kong's best views
An afternoon at the famous Wooloomooloo
Published: December 7, 2017
An afternoon at the famous Wooloomooloo Steakhouse and rooftop bar
Wooloomooloo Hong Kong is famous both for it's fantastic steaks and the spectacular city views. A combination of these two things is a sure thing if you like a perfect afternoon/evening.
We decided to have a late lunch and some afternoon drinks here. The lunch is served in the restaurant (inside) on the 30th floor, with amazing city views of both Hong Kong Island and the Kowloon side.
Lunch:
We arrived pretty late for being a lunch (around 1:45 PM) which meant that we almost had the whole restaurant for ourselves. It felt very luxurious and we also got a table in the corner of the restaurant, overlooking both the skyscrapers and Happy Valley on Hong Kong Island, and the skyline of the Kowloon side.
During lunch they have a special lunch set menu, consisting in 3 dishes. Starter, main and dessert. But they also have the ala carte menu to choose from. And that's where all the delicious steaks and signature meat dishes can be found.
Food and wine:
For starters we ordered some plates to share. Carpaccio, tuna tartare and some Iberico ham. And for main dish, we all had some different steaks and meat from the a la carte menu. Or how about fillet mignon, Rib Eye and the signature Wooloomooloo steak.
To this, some different sauces, fries, potato gratin, grilled asparagus and salads. And most importantly, a bottle of nice red wine (Malbec) from Argentina to rinse it all down with. Everything tasted superb!
We can really recommend the food and wine here, if you are a meat lover. Be prepared to spend some money but it's all worth it.
The roof terrace and drinks
After the lunch we headed up to the terrace at the 31st floor. The view up here is amazing. One of the best in Hong Kong.
If we were late for lunch time, we were early for Monday drinks on the terrace. The first hour, we had the whole rooftop for ourselves. As we were quite full after the 3-course lunch, we decided to get some Aperol Spritz and cigars. A perfect way to end a perfect lunch.
The atmosphere up here is always superb. In the afternoon it's more relaxed and during the evening a more lively vibe takes over.
Conclusion:
Wooloomooloo Hong Kong is and will always be a favorite rooftop bar in the world for us. This place has it all!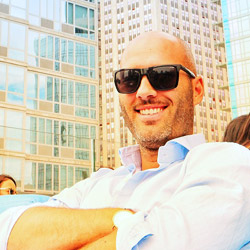 Written by:
Hans Ebenman
- Co-founder, CEO & rooftop expert at The Rooftop Guide