Terraza at The Principal Madrid Hotel
Review
Terraza at The Principal Madrid Hotel
A rooftop bar in Madrid with a fantastic service and tasty cocktails
Published: May 6, 2017
Tranquility, luxury and an attentive and nice service
Terraza at The Principal Madrid Hotel is a classic rooftop located at the luxurious 5-star hotel, Ada Palace. When entering the newly decorated terrace, you instantly get a harmonious and warm feeling.
The place feels like a roof garden with many seats and a beautiful skyline view over the central parts of Madrid. Before redaing more, dont forget to check out all the rooftop bars in Madrid here.
The nice and polite waitress showed us to a really nice sofa at the edge of the terrace. It also had a big parasol to cover the warm sun. Our longtime favorite drink has become Aperol Spritz, so we had to try it out here as well. It tasted as good as it always does.
The beautiful view and harmonious and calm atmosphere made it even better. This is a perfect rooftop bar if you like luxury in a garden like setting.
Terraza at The Principal Madrid Hotel was a great addition in the Madrid rooftop scene and a perfect option for those who place great value in tranquility and quality.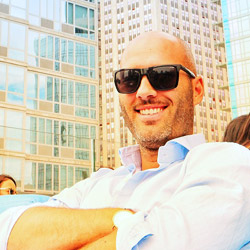 Written by:
Hans Ebenman
- Co-founder, CEO & rooftop expert at The Rooftop Guide