The best rooftop pool in Europe at Grand Hotel Central in Barcelona
Review
The best rooftop pool in Europe at Grand Hotel Central in Barcelona
Sunny days and mornings
Published: December 24, 2017
Sunny days and mornings in the heated rooftop infinity pool located at Grand Hotel Central:
When we booked our rooftop trip to Barcelona, it was a given choice to stay a couple of nights at Grand Hotel Central. Mostly because of their amazing rooftop infinity pool. And the fact that it's winter in Spain, resulted in that we had the swimming pool for ourselves most of the time. 20 degrees in the sun and 23 degrees in the water is very warm for us Swedes.
The terrace here is equipped with sun loungers, lounge sofas with tables, a bar and the luxurious rooftop infinity pool. A perfect environment for some luxurious relaxing or afternoon drinks.
During winter time, the terrace is only available for the hotels guests and during summer you can visit the terrace in the evening if you're not a guest at the hotel. To use the swimming pool, you must be a guest – despite if it's winter or summer.
So, a recommendation is to book your hotel nights here, if you like to use this amazing terrace to the fullest. Our first visit on the rooftop was right after checking in at 11:00 AM.
We left our bags in the rooms and changed to swim wear and bath robes. Well up on the terrace we where alone and could enjoy it like it was our own private space.
We could choose the best seats, swim alone in the pool and play our own music. It was a super luxurious feeling. Except sun bathing and swimming, we also worked a little. One of the best "offices" you can find.
To be able to work with the sun in your face, in front of sweeping city views in your bath robe, is really a privilege.
The next day we decided to take a swim during sunrise. The alarm was set on 8:00 AM, and like the day before, we hade the whole terrace for ourselves. The sunrise was magical, and this was a very nice way to start the off the day with.
We spent the whole noon here, and it was a couple of very nice hours in the sun. We can recommend Grand Hotel Central to everyone who's visiting Barcelona. You will have a memory for life and also some very Instagram friendly pictures.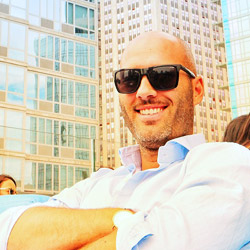 Written by:
Hans Ebenman
- Co-founder, CEO & rooftop expert at The Rooftop Guide