Hotel Jen and Baywatch@Jen Rooftop - A hidden urban oasis situated at the heart of Orchard Road
Review
Hotel Jen and Baywatch@Jen Rooftop
A hidden urban oasis situated at the heart of Orchard Road
Published: October 23, 2017
We spent two great days at Hotel Jen Orchardgateway in Singapore, enjoying their stunning rooftop along with quite alot of food and wonderfull service.
Orchard Road is one of (if not the) most famous shopping streets in Asia. While some might get a warm feeling inside just by hearing about a 2.2 km shopping stretch, this also means it is a very busy and lively area. And we get a much warmer feeling inside telling you about the hidden oasis Hotel Jen that you can find in the middle of Orchard Rd.
The hidden oasis-part starts allready on check in. You will not find a large lobby for the hotel on the ground floor, just a small concierge desk and elevators up to the 10th floor where check in is. Or in our case, continue up to the 19th floor for Cloub Lounge check-in.
And we would highly recommend adding the Cloub Lounge experience (80SGD per person/night) to your stay here. This means rooms with a view and exclusive check-in and check-out, but most importantly:
- You get to enjoy the great breakfast buffet with all the regular first-meal-of-the-day dishes you can ask for, along with an ice-cream area.
- Complimentary non-alcoholic beverages and snacks all day long (afternoon tea) and later in the evening, between 5.30 and 7.30, evening cocktail buffet with both snacks, like vegetables and nachos with guacamole, some hot dishes, some desserts and beer, wine and spirits to choose from as you please. Really a great way to top of the day or start off the night. And all of this is served at the Cloub Lounge on the 19th floor with some great views of the city.
Breakfast area, seatings inside and outside
The very important egg station
Ice cream buffet
Evening cocktails
Afternoon tea
Our room was a Panorama Cloub Lounge on the 15th floor, which meant a really large room with panorama windows all along one side and great views over Orchard Rd. Everything was in great conditions, large bathroom with waterfall shower, desk to work at, chairs to sit and enjoy the view and beds made for sleeping like a baby.
And bathrobe and flippers, perfect to use for getting up to, what we think is the very best part about this place, the rooftop deck up on the 19th floor.
Views down to Orchard Rd
So the 19th floor at Hotel Jen is kind of the heart of the hotel and the gem that makes this place really something extra. Apart from the Cloub Lounge this is where you find a nice little gym, and actually two rooftop decks.
The smaller Bamboo Sky Terrace, with some nice greenry and a couple of sofas and chairs to relax in. Or why not burn some calories on the training cycles out here?
Bamboo Sky Terrace
Nice work out enviroment
And then there is the large rooftop deck with a magical infinity pool and the Baywatch Rooftop Bar. Needless to say, we spent most of our time at the hotel up here.
Open from 6 in the morning to 11 at night you can really spend any hour of your day here. And it really is a hidden oasis in the middle of a buzzing city.
High enough to get away from the noises of the busy streets below, big enough to create the feeling of having your own space, green and well decorated enough to make you feel that you are at an excluded beach resort in some exotic country. The only thing giving it away is the stunning skyline views of almost all of Singapore.
Up here you can choose from laying down on some really nice puff-like sun chairs, seek more shadow in the huts with large sofa beds, get closer to the skyline view in some bamboo chairs or just sit on the divider in the middle of the pool getting some cool on your feet. Or something else, the opportunities feels almost endless.
And then there is the Baywatch @Jen rooftop bar where you can order refreshing drinks, both beers and cocktails and also softer beverages. To this you can get snacks in the form of different platters, Panini sandwishes or some fresh fruits.
One virgin and one Watermelon Mojito
Enjoying drinks, pool and view - perfect combo
At night the terrace is covered in a very cosy feeling, with subtle lights hanging from the trees, some lights in the pool and also some tables working as lights. So the terrace is quite dark, making it hard to capture on picture but more importantly, lets the city and its lights really stand out and create a really great night time view.
Night time beers
As a guest at the hotel you (of course) have free acess to the rooftop, but even as a non-guest you can enjoy the rooftop and the pool for a fee of 20 SGD. Definetly worth it! And some weekends they also throw pool parties up here, which are open for everyone.
We left Hotel Jen Orchardgateway with a great feeling! This about 3 year old hotel really offers quality in everything, from rooms and food to rooftop and service. Really great and friendly service from everyone we mrt during our stay. So, untill next time Jen, we will be back!
And here you can check out more great rooftop bars in Singapore.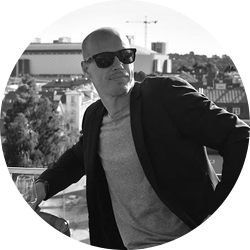 Written by:
Rikard Fredricson
- Co-founder, Creative & rooftop expert at The Rooftop Guide