Nolen rooftop in San Diego
Review
Nolen rooftop in San Diego
High quality sunset and high quality everything
Published: August 2, 2017
Another night, another rooftop? Yes but still no, Nolen rooftop really delivered in all ways and is one of the top rooftops we have visited.
We had a reservation at 7PM at the Nolen Rooftop Bar, which is located on the 14th floor of the newly constructed Courtyard San Diego in the Gaslamp District.
When you step out on the terrace you will probably first notice (we for sure did) the very cool round table with a big fireplace in the middle. And probably think "just imagine hanging there one night with 10 of your best friends".
We did not get this table, suitable for a group larger than the four of us, but instead we got a great table at the edge of the terrace with really comfy sofa-chairs and great views over the city, Coronado Island/Bridge and the water.
The interior of the Nolen is very cool, everything feels very well thought out. The terrace is not that big but still feel spacious, and all though not all seats are at the edge you get a pretty good view of the city no matter where you are seated.
Our visit was at a weekday, and when we arrived the terrace was about half full. It did fill up with a larger crowd during our visit, but there was always some seats available. This helped create a really relaxed atmosphere, a feeling of "stay, enjoy the sunset, you've got time".
We started of with a few drinks from the good selection of cocktails. Everyone was in Gin-mode, so it was gin with cucumber (Cucumber Gimlet), gin with honey & lemon (Bee's Knees) and gin with blackberry (Blackberry Bramble). All of them really tasty and very nicely presented.
Then it was time to try some of the food, there is a bunch of different bites to choose from so it was not an easy pick. We went for Chili Glazed Meatballs, Short Rib Flatbread, Tuna Poke and Shrimp & Grits Cakes. And wow!
As far as bites goes it doesn't get much better than this. We Swedes know our meatballs, and these ones where absolutely fantastic. And the Flatbread was also amazing.
Chili Glazed Meatballs
The food was actually so good that we felt the need to try something more, and went for some Beer Braised Slider. And we did not regret that for one second, super tasty!
Beer Braised Sliders
Of course the food did not taste less good when the sun started to settle and we took the last bites to a beautiful sunset. You really get it perfect here. We got in the mood and ordered a Prosecco Brut & Rose just to enjoy it even more.
And that was that. But then that is also all you need for a great time. Siting there, relaxing, chatting, taking the sunset in, sipping on a drink. The Nolen is absolutely the perfect place for it.
Oh, and another cool thing is that you can watch the planes land and take off from San Diego airport from the rooftop.
Also check out the best places for some San Diego rooftop yoga here.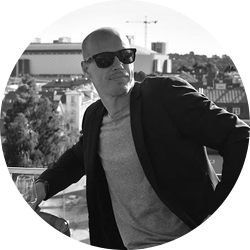 Written by:
Rikard Fredricson
- Co-founder, Creative & rooftop expert at The Rooftop Guide