Clarion Hotel Post in Gothenburg
Review
Clarion Hotel Post in Gothenburg
Heated rooftop pool, bubbles and pizza
Published: August 9, 2018
Rooftop pool at Clarion Hotel Post
The rooftop pool at Clarion Hotel Post is usually only open to hotel guests, but a couple of weeks during summer means Rooftop Pool Club and everyone can pay a fee and enter. We of course did, and got a full afternoon with sun, rain, swimming, bubbles, pizza and tasty elderberry drinks.
Clarion Hotel post is located right at the Gothenburg central station, in a very classic building that used to be the city post office. But since 2012 it is a spa- and design hotel, and you can all guess how it got its name.
Apart from the old post office building, the hotel also holds an added (and higher) bulding behind, and this is where the rooftop pool is located.
Terrace and view:
To get up to the 13th floor and the Clarion Post rooftop pool you need a keycard. As a hotel guest that will not be an issue, and as an outside visitor you can collect one at the ground floor reception. These will also get you in to the changing rooms, which are the first thing you stumble upon when leaving the elevator. Very handy for outside visitors like us.
The terrace is more cosy than big, with a maximum capacity of 50 people. You can sense that it is built to stay open year round, with high walls keeping the worst winds away and a retractable roof for rainy days. So there is not that sense of being blown away by views for miles and miles, but that said, through the high windows you get a really cool and vast view over Gothenburg in three directions.
During our visit there was a soccer game at Gamla Ullevi, and we could watch over parts of the crowd (not the field unfortunately), and also hear the roar when the home team scored, which was pretty cool.
The decoration is very stylish, with lots of white sun loungers, pillows, a couple of tables and chairs along with palm trees. All in all creating a beach club feel worthy of Ibiza or LA.
And then there is the main attraction, the rooftop pool. A bit elevated, giving a little better view of the city in one direction, and views over the other guests at the terrace in the other. Always heated to 30 degrees, so open both summer and winter, and large enough to swim and play around a bit.
Pool and beer
Enjoying most of the furniture
While the changing rooms didn't have any showers (what we could see), there was an even better shower right on the terace. Water as hot as in the pool, and showering with a view is always better. Always!
Shower with a view
Drinks, food and atmosphere:
During Rooftop Pool Club hours there is a somewhat mobile bar available at the terrace, serving everything you need to get in the pool club mode. The bubbles are there on ice, and a menu with a couple of cocktails, beer, wines and snack-style food.
We started with a glass of bubbles to get in the mode, always a success. After that we tried the St Germain cocktail, which actually was a new acquaintance to me. But the mix of elderberry liqueur and sparkling wine was just right, so top grades for that one.
We started to get a bit hungry, and while the cheese and fruit platters that other had looked really good, we wanted something a bit more filling and ordered a couple of pizzas. And I would say they where above expectations. Usually you do not get the very best food poolside, but these felt both fresh and tasted really good.
Bubbles with a view
Pizza
Pizza
We got to experience a couple of different atmospheres during our Saturday afternoon at the Clarion Post rooftop. When we arrived around 2pm the sun was shining and there was quite alot of people and a bit of datime party vibe. Nice lounge music in the speakers and we had to rearrange some to get seats for all four.
And then after about an hour, the sky opened and the rain started pouring down. Not a big issue, since the retractable roof was out and cover was to be found. But it did mean that alot of the other visitors packed up and left, so when the sun came back half an hour later we had most of the terrace to ourselves. Which actually was very relaxing, could choose the very best sun loungers and enjoy the sun and the pool.
The waiters taking care of us during our visit where super friendly, always smiling and made it feel like a very relaxed pool club, where all are welcome.
Rooftop Pool Club:
As said, the rooftop pool at Clarion Post is usually only open to hotel guest, but during some weeks in summer there is a Rooftop Pool Club for all. During 2018 this means Wednesday - Saturday during week 27-32. At these times both hotel guests and outsider can (and must) book there visit, which is 200 SEK for Daypass (13.00-17.00) and 100 SEK for night pass (18.00 - 22.00).
We highly recommend this to everyone looking for a special experience while in Gothenburg.
Conclusion:
• Heated rooftop pool
• Stylish, but friendly & relaxed
• Very comfy sun loungers
• Rooftop Pool Club in summers
• For hotel guests year round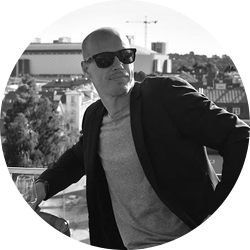 Written by:
Rikard Fredricson
- Co-founder, Creative & rooftop expert at The Rooftop Guide