Guest blogger at Radio Rooftop bar, ME Hotel, London
Review
Guest blogger at Radio Rooftop Bar, ME Hotel, London
High level experience
Published: April 20, 2016
Ivelina (to the RIGHT in the picture) at Radio Rooftop Bar in London.
Next blog post is from Ivelina Slavcheva. A 21 year old travel and lifestyle blogger from London.
Ivelina's own experience at Radio Rooftop Bar in London:
Immense, vivid, alive, never sleeping, hundreds of adjectives or just one word would be enough – London. City of diversity, cultural melting pot and great social hub, this conglomerate has much to offer to the fine taste of each and every pretentious persona or just to inspire and challenge the hipsters' spirit.
What a better way to satisfy my senses than having a cocktail in the clouds. Tonight's spot is the Radio Rooftop bar at ME hotel in the Strand area, just a stone's throw from Mayfair and Soho, the party arena of the top high end clubs. The Radio Rooftop bar is always a secure choice, since it is the ultimate embodiment of cosmopolitan venue with modern clear-lines interior and stunning 360 degrees view towards the London skyline and the Themes with all its landmarks on both banks.
Nice party atmosphere.
Lot's of seats and also heaters to warm up the terrace.
The fast speed lift took me to the 10th Floor, where glass, steel, and marble create an urban nest on the rooftop. The live DJ house music vibes and the great selection of refreshing cocktails and contemporary twist of tapas gave me the taste of this cosmopolitan city, while the night view was breathtaking.
Fire and cosy blankets are spread around the open terrace for the chilly late nights. Though the rooftop bar is open daytime as well, offering one of the most beautiful sunset views above London.
Cool skyline view.
My attention was captured by one of the signature cocktails "Remember me" consisting of Bombay Sapphire, strawberries and lemon with Prosecco, which promised me an unforgettable night. As a great lover of tapas I couldn't resist the temptation and chose piri piri prawns skewers, beef skewers, pea & mint croquettes and ham & leek croquettes.
Nice view over Londons rooftops.
The venue is a bit pricey but it's definitely a great value for money and a kick start of a well organised classy night out in the West End. High level of service, delicious cuisine, good vibes, stunning view and contemporary urban interior is the mix of the best choice for a rooftop bar and a night to remember.
Tasty tapas and amazing cocktails.
Ivelina (to the LEFT) and her friend at the rooftop.
As being a connoisseur of the quality lifestyle, I appreciate the whole experience of the nights out in a city like London, where the choice and opportunities are endless. I am a freelance travel and lifestyle blogger from Bulgaria, Advertising student and an adventurous girl who is living to the maximum.
Currently I am based in London, but traveling and experiencing life in its full meaning is what keeps me happy, creative and on point.
You can follow me on Instagram here. Here you can find more rooftop bars in London.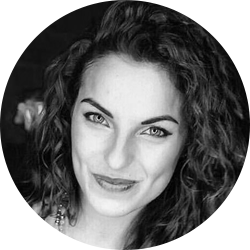 Written by:
Ivelina Slavcheva, for The Rooftop Guide