Great rooftop terrace at the JW Marriott in Cannes
Review
Great rooftop terrace at the JW Marriott in Cannes
Luxury hotel located in the center of town
Published: July 13, 2016
The amazing JW Marriott in Cannes
JW Marriott is a luxury hotel located in the center of Cannes, right next to the beach. It is the only building where there are no palm trees in front, which makes it stand out among the other hotels nearby.
Especially if you look at it from one of the luxury yachts lying and bobbing in the bay. Among these, the world's second largest yacht, belonging to Roman Abramovich, was to be seen when we were there.
Focus on the yachts in the background...
When we arrived we were fantastically welcomed by Rebecca, whom we had contact with before our arrival. She showed us to the terrace where we got two sunbeds in the best position, and a sofa set with matching table with views across Cannes and the sea.
The bar and restaurant staff took care of us in a magical way, and we really felt like kings up here. Here we were enjoying the view, the sun and the nice rooftop pool until it was time for lunch at 2 PM.
Nice sofas...
...and equally nice sun beds!
We got a lovely table on the terrace with an equally lovely view. They served us hamburgers, tuna tartar, delicious bread, tasty snacks and a lot of prosecco. A wonderful lunch that lasted nearly 3 hours.
Towards the end of lunch Rebecca (Marketing & Community Coordinator) and Cécile (Marketing & Community Supervisor) joined us for a coffee and talked about both their hotel and rooftop bar, but also about The Rooftop Guide and what we do and stuff like that.
Burgers with a view, yummy!
Tuna tartar
Prosecco
Me, Rebecca and Cécile
We found out that during the International Fireworks Festival, which is held a couple of nights during the summer, the best location the view this spectacle is from this terrace. The sky in Cannes becomes painted in amazing colors. An experience that is supposed to be really cool. Really sad that we could not be there and see it, a must to do next time.
After lunch, we continued to enjoy the roof terrace and all it had to offer. One of the best things here was the comfortable atmosphere. Quiet, harmonious and very relaxing. We dozed off several times in our comfortable sol loungers, while we could hear the faint murmur from the main street below.
It struck us how few people it was here in comparison with the terrace's size. This was also something we asked Rebecca and Cécile about, and the answer we got was that many believe that the terrace is only accessible to hotel guests. But this is not the case. Everybody is welcome up here.
However, the swimming pool is only available to those who stay at the hotel. But all other surfaces and facilities can be utilized. So if you are i Cannes, YOU MUST GO HERE for lunch or just some drinks!
The rooftop pool
All in all, this was one of the best rooftop-experiences we've ever had, and clearly the best during this trip so far.
Really satisfied visitors!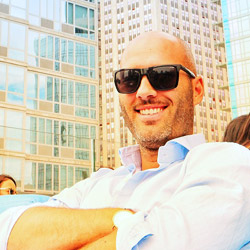 Written by:
Hans Ebenman
- Co-founder, CEO & rooftop expert at The Rooftop Guide
More from The Rooftop Guide
You may also like