A rooftop bar with international standard opens in Stockholm
Review
A rooftop bar with international standard opens in Stockholm!
Up at the new hotel Scandic Continental
Published: April 2, 2016
Finally!
Yes, you heard right! Finally, we get a rooftop bar in Stockholm international standard in terms of both views, bar and styling. The doors to the hotel opened up on April the 1st and The Rooftop Guide were invited to the press conference.
Grand opening av Capital at Scandic Continental.
Strawberries and choclate. Yummie!
Tour guide in the hotel:
It all started with a little mingling down in the lobby with strawberries, chocolate, sandwiches and coffee, while the hotel director and the head of the concern presented the new Scandic Continental followed by a classic tape cutting.
After that they we got a one hour tour of the hotel where both conference rooms, restaurants and suites was shown. They really managed to get to a modern, warm and stylish décor. Finally all of us took the elevator to the 8th floor where the rooftop bar and sky bar Capital was presented. Finally!
View from the rooftop bar.
With the hotel manager Peter Storckenfelt and the F&B-manager Marcos Campos.
The bar in the skybar
Here we were met by a drink and the magical views beyond Södermalm, Kungsholmen and the City Hall. Much of the interior was not clear on the terrace, but of the info we got, we cannot believe anything other than that it will be really good when everything is ready. Infrared heat, sofas, lounge chairs, tables and garden plants.
Inside the sky bar, however, all was set. Large and lovely lounge couches to settle sown in, a long bar with seating for many at the same time, nice details on the interior and a pleasant atmosphere with lounge like background music. They will also have live DJs here playing some nice tunes in the evenings.
Drink with a view.
Satisfied with the view.
With furnitures, plants and heaters here, the decor will be really nice.
We rounded up the evening with a long afterwork at the terrace. A lot of our friends came and we had a blast. We will for sure be back here more times this summer.
The team behind The Rooftop Guide enjoying drinks in the nice atmosphere
Nice evening view over Stockholm.
We were very pleased with what we saw and experienced. This bodes very well for the upcoming rooftop season that kicks off in Europe and Sweden now. Capital at Scandic is a perfect rooftop bar for a good dinner or afterwork. We can highly recommend coming here if you like good views and good drinks in a comfortable setting and atmosphere.
Hope to see here you this summer!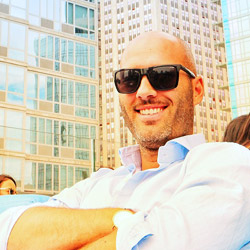 Written by:
Hans Ebenman
- Co-founder, CEO & rooftop expert at The Rooftop Guide