Gansevoort's rooftop bars in New York City
Published: May 2, 2016
Two hip rooftops with with perfect locations in Manhattan
Before our trip to New York we had some contact with Gansevoort several times since their rooftop bars are among the best ones in New York. Both Rebecca and Sara from Gansevoort had assured us to get nice tables on their terraces.
Gansevoort Park and the Gansevoort Meatpacking are two hip rooftops with luxurious furnishings and lovely views. Both with perfect locations in Manhattan.
Nice hangout at Gansevoort Meatpacking.
Rooftop bar Gansevoort Meatpacking in New York:
A rooftop bar I visited about 6 years ago. Then it was their night club that mattered. This time we thought we try the terrace during the day with some nice hang out in the sun.
Meatpacking is an area in New York with many hip nightclubs, bars and restaurants. The weather was brilliant and after a Mexican lunch at Dos Caminos in the area, we went to the rooftop bar, around 4 PM o'clock, right at the opening.
We immediately found a comfy lounge sofa where the sun was shining while we enjoyed the magical panoramic views and a glass of rosé each.
Me and Ida in one of the comy lounge sofas.
Two amazing hours that had almost everything you could ask for from a rooftop experience. Gansevoort Meat Packing consists of two terraces. One is located just as you enter on the opposite side of the bar, overlooking the Hudson River and New Jersey.
There is also a rooftop pool, which unfortunately is only available for hotel guests. If you go into the nightclub premises there is a door that says "Secret Garden" on. There lies the second terrace.
The view over New Jersey and Hudson River.
The rooftop pool.
A super nice rooftop bar in classic lounge style. Perfect for us. Sofas, lounge chairs, umbrellas and sun-position all afternoon. This I can highly recommend to anyone who likes views, harmony and tasty drinks.
Some really nice sofas to sink in to :).
Views over Downtown and Freedom Tower.
The rooftop bar Gansevoort Park in New York:
We had never been here before, but heard very good things about it. The roof terrace is a huge corner balcony overlooking 5th Avenue and all the nearby skyscrapers. Also here, the sun was shining on the terrace and gave it a nice warmth and cozy feeling.
Cheeeeeers!
We ordered a coffee and a glass of Prosecco each and immediately got good contact with the table neighbors who noticed the we came from Sweden. They seemed to be two experienced bar and nightclub visitors who had good knowledge of nice party venues - both in New York and London - then one of the guys was born in London. Perfect, because the next rooftop trip we have planned is precisely to London.
Prosecco and espresso, yummie!
Ida were happy with her spot in the sun.
Unfortunately, the rooftop pool had not opened up for the season here, otherwise we had been promised to get to swim and hang out there after the drinks. Hopefully we can do that next time.
Anyway, the Gansevoort Park was a pleasant experience with good drinks, nice atmosphere and lovely views right among some of Manhattan's tallest skyscrapers.
For more info, read about the best rooftop bars in New York here.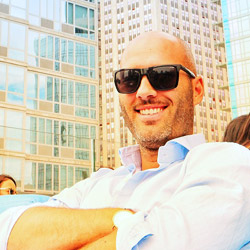 Written by:
Hans Ebenman
- Co-founder, CEO & rooftop expert at The Rooftop Guide